BULLETIN
Winter/Spring 2009
On the Ground in Asia: Laos
The Asia Foundation to Open New Office in Vientiane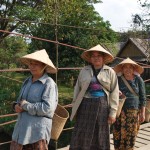 The Asia Foundation will be opening a resident office in Lao PDR this spring. The Foundation has managed Lao programs from its Bangkok office since 1989, with recent programs focusing on accelerating the country's legal development, protecting women's rights and increasing their involvement in politics, promoting sustainable development, countering domestic violence and human trafficking, and expanding access to information.
Gretchen Kunze, the Foundation's Deputy Country Representative for Thailand and Laos since January 2005, has been appointed the Foundation's new Country Director for Laos. Under her direction, the Lao program has grown from a small start-up with one national partner to one with more than a dozen active partner organizations. Over the past four years, Kunze has been working hard to re-establish an Asia Foundation presence and program in Laos, shuttling back and forth between Bangkok and Vientiane every month.
Kunze has 14 years of experience in international development, governance, and civic participation programs. Prior to her posting with the Foundation in Thailand, she was Assistant Director in the Foundation's Programs Unit in San Francisco. For three years prior to that, she worked as a consultant for the International Institute for Democracy and Electoral Assistance (International IDEA, based in Stockholm). She first joined the Foundation in 1994, and through 1997 served in the Asian-American Exchange, Conflict Resolution, and Luce Scholars Units before leaving the Foundation to work in Japan.
Joining Kunze in Laos as Program Officer will be Ms. Achariya (Nim) Kohtbantau, also from the Thailand office, who has helped to manage the growing Lao program portfolio. Achariya brings considerable experience in program management from her nearly nine years at the World Bank.
The Foundation also plans to hire local staff in Laos.
"With the opening of new international transport routes, a growing awareness of its natural resource wealth, and a dramatic increase in tourism, this is an exciting time in Laos and the absolute right time to further expand our programs there. I am looking forward to leading this effort."
– Gretchen Kunze
Country Director, Lao PDR