BULLETIN
Winter/Spring 2009
Pioneering Water Monitoring Project in Laos
By Brooke Shull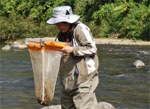 Only a few hours' drive from Laos's capital of Vientiane, Vang Vieng is a small but growing port town, and one of the country's most popular ecotourism destinations. While local tourism and agriculture businesses thrive off the pristine waters of the town's Nam Song River, villagers rely on the river for their main sources of protein: fish and aquatic insects.
Laos's river systems are the foundation of its burgeoning export economy, which largely consists of hydropower, mining, commercial agriculture, and forestry. Yet these industries – and even some tourism operations – are threatening once-pristine watersheds. Local communities and ecotourism entrepreneurs are increasingly concerned about uncontrolled development, poorly enforced environmental regulations, and their impact on precious water resources. And villagers, who are intimately connected to the environment, lack the means to scientifically monitor degrading water systems or effectively advocate for improved environmental protection.
The Asia Foundation is spearheading a community-based monitoring approach in Vang Vieng. During a recent visit, Laos Program Officer Achariya Kohtbantau spent several days along the Nam Song River overseeing the Foundation's first water quality field survey in Laos. The survey method focuses on biological monitoring of small aquatic insects – water bugs – that serve as good indicators of water quality. The project is inspired by a Foundation program in Mongolia, which, in two years, has sampled more than 125 rivers and trained more than 300 students, teachers, and community leaders in water monitoring.
The Foundation's research partners at the National University of Laos Faculty of Science surveyed seven sites along the Nam Song River. Villagers and local officials observed with great interest and eventually joined the effort, collecting the water bugs and giving researchers local names for each species.
Over the next nine months, the Foundation will work with the Faculty of Science to develop Lao-specific training materials and train local citizens to conduct their own water monitoring. Data from this project will be linked with a national environmental monitoring database, and an analysis of the data will be shared with the broader community in Vang Vieng. The Foundation aims to connect and replicate the project in other areas of Laos.
Brooke Shull is The Asia Foundation's
Environment Program Officer
Annual Report 2016
Addressing the critical issues facing Asia
View the report
Annual Report 2016
Addressing the critical issues facing Asia
View the report