BULLETIN
Winter/Spring 2009
Top India and U.S. Experts Make Recommendations on U.S.-India Relations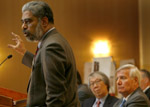 According to The Asia Foundation's America's Role in Asia, while the U.S. often talks about making India a full partner in managing the global order, it must take immediate steps, such as making India a full member of the G-8 group of advanced nations.
America's Role in Asia, a volume of foreign policy recommendations for U.S.-Asia relations, was released in late 2008, in time for the political conventions before the U.S. presidential election. The recommendations were developed from a year of high-level, closed-door discussions among top experts from Asia and the U.S., convened and supported by The Asia Foundation. In a forum held in New Delhi in January, the Foundation turned a spotlight on recommendations in the report for U.S.-India relations and U.S. policy in South Asia.
Leading Indian and American diplomats, officials, CEOs, and scholars attended, including speakers Ambassador Karl F. Inderfurth, former U.S. Assistant Secretary of State for South Asian Affairs; Dr. C. Raja Mohan, professor at the Rajaratnam School of International Studies, Nanyang, Technological University in Singapore, and former member of India's National Security Advisory Board; and Ambassador Rajendra Abhyankar, former Indian Ambassador to the European Union, Belgium and Luxemburg, Azerbaijan, Turkey, Syria, and Cyprus, and Asia Foundation Director of India Programs.
"The last two American presidents recognized that fundamental change was underway with India as an emerging global power and acted accordingly," said Ambassador Inderfurth, author of the America's Role in Asia chapter on U.S.-India relations.
"A strong foundation for a vibrant U.S.-India relationship has been established, upon which the next U.S. administration can build."
"India is an important factor," added Dr. Mohan, the South Asia Regional Chair of America's Role in Asia. "South Asia will become increasingly relevant to a number of new challenges confronting U.S. foreign policy, such as Asia's regional balance of power, maritime security, and global warming." The recommendations for U.S. policy to South Asia include strengthening economic partnership with the U.S., including doubling bilateral trade with India; expanding counter-terrorism through increased information-sharing; and undertaking a significant effort to win political support among the Pushtun tribes and recognizing how deeply the Pushtun question divides Pakistan and Afghanistan. Read the full report and read In Asia blog entries.