From India: Climate Solutions Road Tour: MUMBAI STOP
April 15, 2009
The Asia Foundation, in partnership with the University of Mumbai, sponsored a series of Indian Youth Climate Network (IYCN) events in Mumbai around the visit of the Climate Solutions Road Tour (CSRT). The Tour set off from Chennai earlier this year and ended in New Delhi, just before the Sustainable Development Summit. It visited 15 cities along the way, including Pune and Mumbai. At each city they organized events focusing on local initiatives for climate change. The cynosure of all eyes were the caravan of colorful REVA electrically-powered cars manufactured in Bangalore that run for 150 km on one hour electric charge.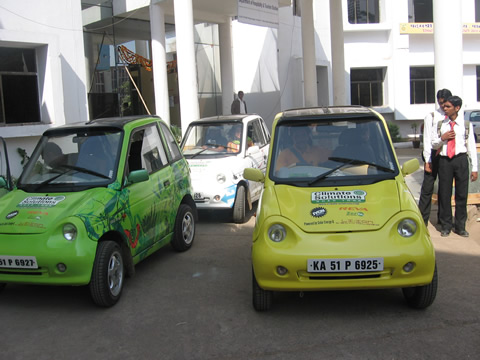 The tour left from Pune for Mumbai in the early hours of January 17, reaching the amazing city well before noon. The first events included interactions with very enthusiastic students from the Ramarao Adhik Institute of Technology and the SIES Institute at DY Patil College. The road tour was the brainchild of Anna daCosta, from Goa, who co-directs the Climate Solutions Project; Caroline Howe, who has worked on climate change adaptation, mitigation, and sustainable development projects across the globe and lives in India where she's been working with The Energy & Resources Institute and Infosys; and Alexis Ringwald, a Fulbright scholar in India and now a solar entrepreneur. They saw environmental innovators were working in India, but weren't communicating across the enormous country and sharing their ideas and how to implement them. They got India's Reva Electric Car Company to donate the cars and retrofitted them with the latest solar technology and longer life batteries.
DaCosta, Howe, and Ringwald delivered a presentation on "Climate Solutions" and later joined road tour team member Abishek Bhardwaj to meet students for lunch, while Solar Punch, the solar music band, performed. A highlight was one of the Indian students giving an impressive presentation on CDM (Clean Development Mechanism) and its relevance in India. The CSRT Team then fanned out to the Vivekananda Institute in Chembur, and the Mumbai University, Kalina Campus. A few brilliant and powerful performances concluded the first day in Mumbai on a happy and contented note.
Sunday, January 18 was one of the most memorable days of the Tour. At 8:05 a.m. sharp, one team drove one of the solar electric Reva cars leading the "senior citizen's" race at the much-awaited annual Standard Chartered 40,000-crowd Mumbai Marathon. The young leading the old! Meanwhile, at the finish line, Solar Punch entertained a mass of thousands of Mumbaikars (citizens of Mumbai). The crowds went wild; the ambience was electrifying and the mood was thrilling. They rocked Mumbai with their repertoire of environmental messaged songs, including "Plastic" and "Let the Sunshine In" as well as a few top Bollywood numbers driving each soul crazy. IYCN spoke to the crowd on climate change and engaged the masses to shout "We are the solution to climate change." With a mix of Hindi, English, and Marathi, the young team certainly inspired a new group to take action. In the evening, they visited the home of the U.S. Consul General at the tony Breach Candy, Mumbai. I enjoyed a wonderful and inspiring evening of solar dancing and conversation with U.S. Consul General Paul Folmsbee, and Pro-Vice Chancellor Dr. Sawant. The Consul General spoke about the new U.S. president, Barack Obama, and the momentum for action in the U.S.
January 19 started off with a breakfast with the energetic sheriff of Mumbai, Mrs. Indushani, Dr. Sawant and the Road Tour Team at the beautiful and historic Radio City Club. Thereafter, they visited Bombay Natural History Society and learned about the various kinds of species of animals being preserved and the research undertaken to understand climate impacts on biodiversity. After this, the whole team met at the incredibly beautiful Mumbai University Convocation Hall for a Climate Leadership Training program, where they trained a whole group of environmental enthusiasts to lead climate solution projects in the Mumbai. The presentation served as a catalyst for student interest when the audience debated solutions for Mumbai city in five groups. Topics included rural and urban energy, water, green jobs, the environmental scene in Mumbai, and sustainable agriculture. Later that afternoon, one team went to Priyadarshini Park on the Napean Sea for a beautiful "Kids for Tigers" event with children's environmental magazine, Sanctuary. Alexis Ringwald served as a judge for the animal costume competition in which children of all ages dressed in their favorite handmade endangered species costume. The afternoon concluded at sunset with giraffes, tigers, seals, white tigers, and unicorns dancing to environmental songs with the solar band, and painting their eco-vision on a mural. It was a beautiful and inspiring experience for everyone.
January 20 was one of the busiest days for the team. They strategically divided into groups so as to visit every solution. One group left to the Maharashtra National Park at sprawling Dharaavi slum (the setting for the Oscar-winning film "Slumdog Millionaire") on a solutions visit. This was a powerful example of how a bio-diversity park could emerge at a place which was earlier a dump site for the city's wastes. This park has many medicinal trees as well. After lunch they headed off to the mangrove forests created by the Godrej corporate group in the suburbs of Borivili. The massive forests were again another example of how we can have carbon sinks within the city. Another group visited the HR College and AC College, where they interacted with more students on climate change. The group at HR came up with campus solutions to implement, including: a green tree roof, painting the roof white, implementing vermi-culture, creating an electric car taxi service, setting up solar charging stations for mobile phones on campus, etc.
Later that evening, the entire team met at Bandra Fort for "Stop Climate Change," a climate concert that was part of the Mumbai Festival. Solar Punch performed with other Indian rock bands and engaged the crowd with environmental songs. IYCN team members Caroline Howe and Deepa Gupta served as MCs for the whole night and spoke about climate solutions to the crowd, including solar lanterns, hand-crank radios, cloth bags, and more. The night concluded with the whole team dancing and ending the Mumbai part of the tour on an unforgettable note.
Watch films of the road trip and get more information on their web site.
Ambassador Rajendra Abhyhankar is The Asia Foundation's Director for India Programs in India. He can be reached at  [email protected].
About our blog, In Asia
In Asia
is a weekly in-depth, in-country resource for readers who want to stay abreast of significant events and issues shaping Asia\'s development, hosted by
The Asia Foundation
. Drawing on the first-hand insight of over 70 renowned experts in over 20 countries,
In Asia
delivers concentrated analysis on issues affecting each region of Asia, as well as Foundation-produced reports and polls.
In Asia
is posted and distributed every Wednesday evening, Pacific Time and is accessible via email and RSS. If you have any questions, please send an email to
[email protected]
.
Subscribe
Contact
For questions about
In Asia
, or for our cross-post and re-use policy, please send an email to
[email protected]
.
The Asia Foundation
465 California St., 9th Floor
San Francisco, CA 94104
Mailing Address:
PO Box 193223
San Francisco, CA 94119-3223
Six Stories, Six Paths to Development
Online Platforms as Drivers of Inclusive Growth
Developed with Google's support, our white paper provides recommendations for decision makers on how to encourage more entrepreneur-driven growth in Asia.
Read more
Six Stories, Six Paths to Development
Developed with Google's support, our white paper provides recommendations for decision makers on how to encourage more entrepreneur-driven growth in Asia.
Read more