Books for Asia launches online effort to provide one million texts
Accomplished photojournalists document individuals inspired by books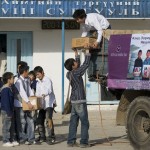 The Asia Foundation's longest running program, Books for Asia, recently launched an online exhibit, The Power of a Book: Books for Asia Stories, to increase awareness of the impact that donated English-language books can have, and are having, in Asia.
Accomplished independent photojournalists Ted Wood, portrait contributor to Vanity Fair, and Josef Polleross, international contributor to The New York Times, and others, use their stunning photos to tell the stories of real people and communities transformed by books. The absorbing images, presented in rich, full-screen slideshows, are viewable at: http://www.booksforasia.org along with an accompanying video on the Books for Asia program.
"Knowledge transforms lives and communities, and educators want to empower their students. English-language skills allow students to boost their potential-potential for improved income, potential for a broader experience of life," said Melody Zavala, director of Books for Asia. "Across Asia, there is a thirst for English-language knowledge and skills, and it spans every sector of society."
The online exhibit depicts four individuals in four different regions. One, photographed by Polleross, tells the story of Pranorn Maisan, a teacher in Phuket, Thailand, who helped distribute more than 90,000 Books for Asia-donated textbooks to tsunami-affected schools. In another, photographed by Wood in gripping, wide-lens images, Bat-erdene Khayanhyarvaa, a former governor of his province on the stark Mongolian frontier, who taught himself English using Books for Asia texts, says, "You can't succeed without thinking beyond your town." Stories from China and Pakistan are also featured. The exhibit is generously underwritten by AARP and Chevron.
Books for Asia supports Asia's development goals by providing needed texts from world-class publishers. Books for Asia plans to donate and deliver one million books this year.