Changes in Chinese Philanthropy One Year After the Sichuan Earthquake
By Michael Howe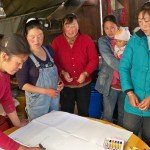 Philanthropy in China is changing. Over the past five years, the Chinese government has created regulations to help develop  private foundations and to recognize the role that an independent, non-profit sector can play in development. The government has begun to embrace philanthropy-including that coming from overseas.
In April, one year after the Sichuan Earthquake, Give2Asia assembled 60 leaders from philanthropy, government, and business to discuss a variety of topics, including new opportunities for philanthropy for China. This event, the first of its kind for many attendees, addressed the emerging non-profit sector, as well as the expectations of philanthropists. Government officials listened to philanthropic leaders, while philanthropists gained a better understanding of challenges faced by the government as it encourages charitable investment.
Dr. Wang Zhengyao, Director General of Social Affairs and Charity Promotion at China's Ministry of Civil Affairs, described how social policies are currently mismatched with economic development. To help, philanthropy is taking a leading role, with a tenfold jump in annual giving. After the earthquake, volunteerism, which was uncommon in China, has grown to 100 million volunteers nationally.
New independent foundations bring new challenges, such as integrating national and local programs, and ensuring that charitable groups are properly monitored. Mr. Wang Xingzui, Executive Director of the China Foundation for Poverty Alleviation, spoke of new government contracts with local non-profits for social programs. In addition, foundations are creating best practices to self-monitor performance.
Yet, issues exist between non-profit organizations and the government, such as creating tax incentives for charitable contributions, fostering well-managed independent non-profits, and further defining the roles of foundations. But much has been done, and in the next five years the landscape will likely change significantly, with new opportunities for philanthropy within and outside of China.
Michael Howe is Give2Asia's President & CEO. Give2Asia is a U.S.-based public charity founded by The Asia Foundation in 2001.