From Timor-Leste: Books Reach Remote Villages
By Almerio Borges and Hugo Fernandes
Almerio Borges is The Asia Foundation's MobileLibrary Project Officer and Hugo Fernandes is the Foundation's Books for Asia Manager in Timor-Leste.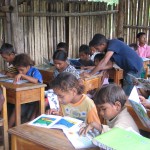 Last summer, we drove a mobile library-a specially equipped mini-bus -outfitted with books, audio recordings, and visual media from Dili to remote parts of the country. Nothing like it had ever existed in Timor-Leste before, and what we saw on our travels confirmed the deep intellectual curiosity and enthusiasm this young nation has for books.
In Timor-Leste, nearly 50 percent of the total population is illiterate. In this new, democratic nation with no lending library and no postal system, pervasive poverty and a lack of public access to information hampers a culture of reading.
The mobile library project was launched to help reverse this situation. At each village stop, we visited the local schools and, repeatedly, we witnessed the same scene: children would curiously approach the van and become ecstatic when they discovered books inside. Then, we would stay behind to read the books aloud.
The mobile library project in Timor-Leste has stimulated demand for access to books from schools ordinarily isolated by poverty and a legacy of neglect. In six months,
the Mobile Library Program in Timor-Leste was able to reach over 100 schools, donating more than 13,000 books in remote and underserved areas in all 13 districts.
With continued support, this innovative initiative could reach thousands more children. For more information about Books for Asia in Timor-Leste, visit www.booksforasia.org.
Annual Report 2016
Addressing the critical issues facing Asia
View the report
Annual Report 2016
Addressing the critical issues facing Asia
View the report