BULLETIN
Winter 2009/2010
The Asia Foundation Releases Fifth Survey of Afghan Public Opinion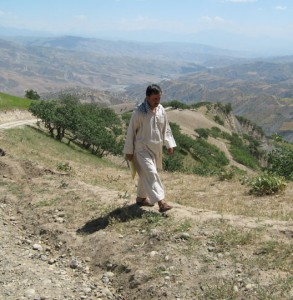 In Kabul, on October 27, The Asia Foundation released the results of its fifth survey of Afghan public opinion: Afghanistan in 2009: A Survey of the Afghan People. The survey was conducted nationwide throughout all 34 provinces of Afghanistan, and is a comprehensive, firsthand assessment of public perception on security, the economy, governance, democratic values, and the status of women. In-person interviews with 6,406 respondents took place between June 17 and July 6, prior to the national elections, and were administered by local Afghan survey teams totaling 648 men and women.
The survey provides a striking snapshot of public opinion in Afghanistan and insights about the problems Afghans face and the direction in which they believe their country is moving. The survey respondents pointed to insecurity-attacks, violence, and terrorism-as the biggest problem facing the country, followed closely by unemployment, a poor economy, and corruption. Findings also indicate that 42 percent of Afghans think the country is headed in the right direction (compared to 38% in 2008, 42% in 2007, 44% in 2006, and 64% in 2004*); while 29 percent feel it is moving in the wrong direction (32% in 2008, 24% in 2007, 21% in 2006, 11% in 2004*). The remaining 21 percent have mixed feelings (23% in 2008, 25% in 2007, 29% in 2006, and 8% in 2004*).
The poll, including methodology and the questionnaire, is available here, where previous surveys from 2004, 2006, 2007, and 2008 can also be found. Similar surveys are planned for 2010 and 2011.
*Note that in 2004, the survey polled just 804 Afghans; all subsequent surveys have polled more than 6,000 Afghans.
Annual Report 2016
Addressing the critical issues facing Asia
View the report
Annual Report 2016
Addressing the critical issues facing Asia
View the report