Providing Psychosocial Services in Sri Lanka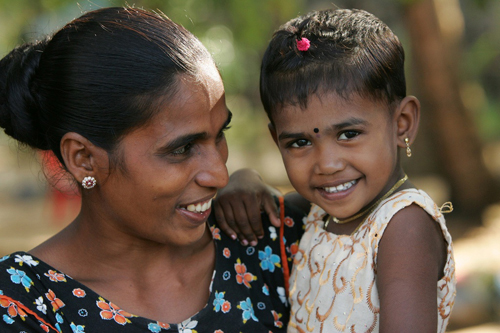 May 2009 marked the end of Sri Lanka's 25-year civil conflict that left thousands dead and many more displaced. As the displaced return home, much work needs to be done to heal the wounds that communities have endured.
To help communities affected by conflict-related violence, The Asia Foundation is partnering with two local NGOs—the Family Rehabilitation Centre (FRC) and Shanthiham (The Association for Health and Counseling)—on a program called RESIST, or "Reducing the Effects & Incidents of Trauma," which helps increase access to psychosocial services.
Over the last four years, the program has supported Tamil,
Sinhala, and Muslim communities, including war widows, bomb blast survivors, trauma and torture survivors, and internally
displaced persons.
With support from USAID and the European Commission, the program provides counseling and medical support (including physiotherapy), yoga and relaxation techniques, raises awareness, and makes referrals to other services.
Working alongside existing government services such as mobile mental health clinics, RESIST fills a particular gap with its holistic, long-term approach to counseling. Part of the program's success is from the development of client-intake forms to gather demographic information from clients and to assess their ability to perform key life tasks. Unlike with some other counseling programs, a client's family members may attend all RESIST programs.
The Foundation is also supporting a six-month outreach diploma course in counseling for 40 psychosocial volunteers working in the Internally Displaced Persons' welfare centers in Vavuniya, a front line town for conflict during the war. These volunteers will continue to work with the displaced families upon return to their original villages.
Annual Report 2016
Addressing the critical issues facing Asia
View the report
Annual Report 2016
Addressing the critical issues facing Asia
View the report