BULLETIN
Winter 2010/2011
Ten Years in Vietnam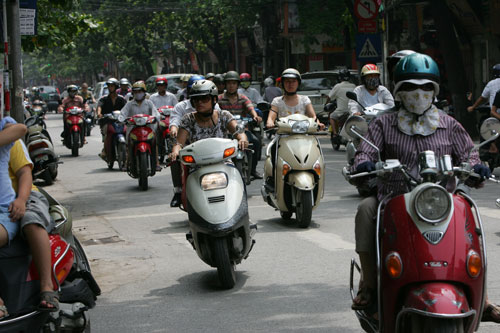 When I visited Vietnam as a young graduate student in 1989, the country had recently undergone the doi moi, or economic reform, but there were few signs yet of change. Hanoi was gray, preternaturally quiet, with bicycles the primary transportation, and electricity limited to a few hours in the evening.
When I returned to Vietnam as The Asia Foundation's country representative in late 2005, it was a different country. Rapid growth had transformed Vietnam into one of the most successful economies in the developing world, helping it to achieve extraordinary reductions in poverty. Relations with the United States were steadily improving, and Vietnam had become a member of the Association of Southeast Asian Nations (ASEAN). Everywhere the drumbeat was "growth," with people on the move and the streets filled with motorcycles and a growing numbers of cars. This past November, the Foundation marked 10 years in Vietnam. Our early programs focused on two crucial areas: private sector development and U.S.-Vietnam relations. But Vietnam's rapid growth has created new challenges and exposed fundamental institutional weaknesses, from social inequality and inadequate public services to rising pollution. The new discourse on development is about sustainable growth, quality rather than quantity, and the need for innovations in education, business operations, and governance.
Today we are helping initiate constructive dialogues about effective governance, increasing public participation in policy discussions, supporting private sector development, and continuing the country's regional and international integration. Highlights of our current programs include the work we do with the Ministry of Agricultural and Rural Development to improve key rural public services, and with the Ministry of Education and Training to develop an environmental curriculum for Vietnamese youth. We are also working with the National Assembly to increase public participation in the lawmaking process, and with key policy think tanks in the country to carry out policy research and provide recommendations to the government on critical issues impacting Vietnam's sustainable development. Such a development process needs to take into account vulnerable communities: we work with the Ministry of Labor, Invalids and Social Affairs to establish standards of care for victims of human trafficking, collaborate with Vietnamese NGOs to provide legal counseling to migrant workers and the urban poor, and provide scholarships to disadvantaged young girls.
Vietnam's biggest concern today is that it will be caught in the dreaded "middle income trap," unable to make the leap to greater prosperity. It's a concern that highlights the need for institutional and policy reforms. It underscores the potential and the ambition of this remarkable country of 89 million, and I am optimistic Vietnam will make the leap.
Kim N. B. Ninh is The Asia Foundation's country representative in Vietnam.