Dr. V. Bruce J. Tolentino Appointed Asia Foundation's New Afghanistan Country Representative Effective July 1, 2011
February 16, 2011 — The Asia Foundation announced the appointment of Dr. V. Bruce J. Tolentino as The Asia Foundation's next Country Representative in Afghanistan, effective July 1, 2011. Dr. Tolentino is currently the Foundation's chief economist and directs its cutting-edge programs on economic policy reform throughout the region. Economic challenges are central in Afghanistan, and Tolentino's experience will be vital in leading the Foundation's work with our partners on the ground in contributing to Afghanistan's development.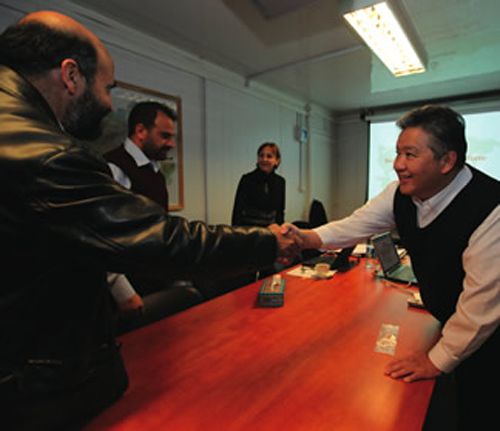 Tolentino is a former cabinet-level official of the government of the Philippines and a seasoned international development specialist, having worked for many policy research and donor agencies, including the Asian Development Bank, the World Bank, and the United Nations. Having led and directed large-scale and diverse programs and teams in challenging environments in Somalia, Cambodia, Southern Philippines, Aceh, and Myanmar, Tolentino will bring extraordinary field leadership and management experience to the Foundation's local office in Kabul.
Tolentino spent two years in Somalia (1993-1995), during particularly difficult times in that country's history, leading and directing United National Development Programme's $35 million a year Somalia Rehabilitation Program. From 1989 to 1992, he was deputy minister for Policy, Planning, and International Trade with the Philippines Ministry of Agriculture.
Tolentino also made important contributions to the $40 million a year Cambodia Rehabilitation and Reintegration Program (CARERE), where he was responsible for oversight and supervision of provincial offices focused on decentralization, local governance, local development planning, small and micro-scale enterprise development, and women's empowerment. With Tolentino's input and assistance, CARERE evolved into what later became the government of Cambodia's national decentralization program. In addition, he has extensive NGO experience, most recently serving as senior technical advisor for Catholic Relief Services with regional responsibilities for agriculture, natural resource management, and employment generation programs in Southeast Asia and the Pacific.
In addition to his role as chief economist at the Foundation, he also served as acting representative in Sri Lanka, Pakistan, and, in 2009, in Afghanistan.
Bruce completed University-level training in Mass Communications at St. Louis University, Philippines; B.S. and M.A. in Economics at Xavier University in the Philippines; Ph.D. in Economic Development and Rural Finance from the East-West Center and University of Hawaii, U.S.A.
Annual Report 2016
Addressing the critical issues facing Asia
View the report
Annual Report 2016
Addressing the critical issues facing Asia
View the report