Briefly Noted
South Korea's Green Growth
South Korean President Lee Myung-bak pledged $97 billion in 2008 to pursue green growth. The success and challenges of that strategy—to date, a new smart grid, the Framework Act on Low Carbon Green Growth—was the subject of a recent conference co-hosted by our Center for U.S.-Korea Policy and the Korea Economic Institute. The private sector's role in creating a low-carbon economy, and the regional context of Korea's green growth efforts were explored; Dr. Young Soo-gil, Chairman of the South Korean Presidential Committee on Green Growth, gave the keynote address.
A project of The Asia Foundation, the Center for U.S.-Korea Policy aims to deepen and broaden the foundations for institutionalized cooperation between the U.S. and South Korea, and supports the Foundation's commitment to the development of the Asia Pacific by supporting a comprehensive U.S.-ROK alliance partnership on emerging global, regional, and non-traditional security challenges.
David D. Arnold Meets UN Secretary-General Ban Ki-moon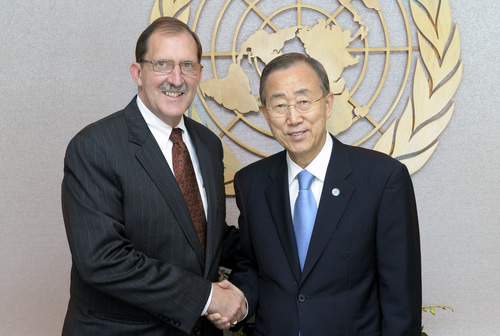 On June 30 the two met at the United Nations to discuss issues of mutual concern, such as trafficking, and to explore opportunities for collaboration.