Six Days in Afghanistan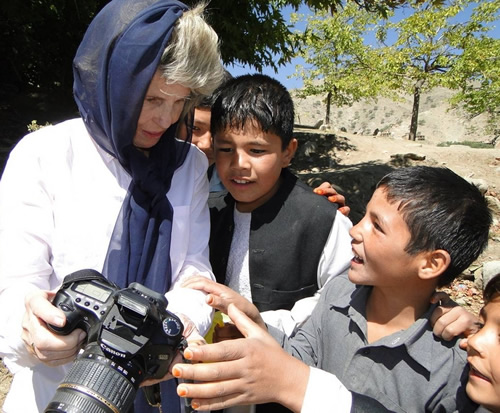 Janet Ketcham, founder of the Janet W. Ketcham Foundation, first traveled to Afghanistan in 1971. Forty years later, she returned to witness and record profound changes.
In late June, Ketcham, who is devoted to supporting goodwill among the Afghan people, presented photographs shot on her recent trip to Kabul. In an exceptional evening at our offices in San Francisco, Ketcham shared Six Days in Afghanistan, a deeply personal program in which she shared her observations and experiences of a dramatically changed Kabul. Her finely composed images of students, daily life in Kabul, and the meticulously restored Babur Mughal Gardens, the largest green space in Kabul, moved guests and sparked conversation. Former Ambassador to Afghanistan and Asia Foundation Trustee Theodore L. Eliot, Jr. persuaded Ketcham to curate and present her show, and the ambassador provided his expert insights about the country during the Q&A.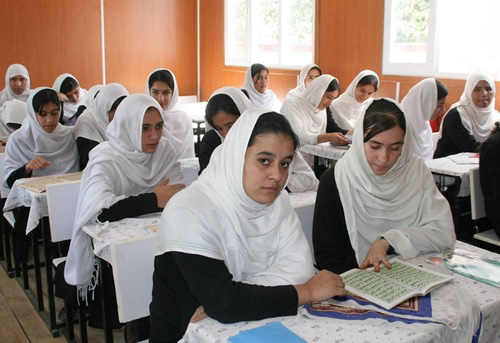 Ms. Ketcham's generosity has enabled our local Afghanistan office to provide much needed assistance to the Lama-e-Shaheed Girls' School in Kabul. The school, which enrolls more than 4,500 girls, K-12, had been badly damaged during the past several decades of conflict. Through Ms. Ketcham's support, the school building has been significantly upgraded with an improved roof, conference hall, chairs, and desks for students and teachers, and a complete overhaul to the school's plumbing system. Beyond these improvements, Ms. Ketcham has embarked on a new project with The Asia Foundation to provide a computer laboratory and IT instructors at the school. The lab will be furnished with computers and printers and will provide internet access, greatly improving students' skills as well as their post-graduate job search prospects. The Asia Foundation's Books for Asia program donated brand new textbooks to the Lama-e-Shaheed Girls' School in computer science, math, communications, and political science. Founded in 2008, the Janet W. Ketcham Foundation has built three schools in Afghanistan and has supported a program of the Global Partnership for Afghanistan in providing 8,000 hybrid poplar trees in ten provinces, teaching farmers irrigation and storage, and giving an alternative to growing poppies. View a slideshow of her images.