The Asia Foundation Philippines Reveals Findings of the 11th Rapid Field Appraisal of Decentralization
Manila, October 10, 2011 —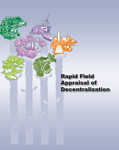 Today, The Asia Foundation in the Philippines revealed the findings of the 11th Rapid Field Appraisal (RFA) of Decentralization, in time for the celebration of the twentieth anniversary of the Local Government Code. The study is part of the USAID-supported Transparent Accountable Governance (TAG) project of The Asia Foundation.
The 11th RFA of Decentralization examines the results of decentralization in Philippine local governments, specifically on four key performance areas: local governance and administration, social services and health, local economic development, and environmental management.
Supported with local, on-the-ground perspectives, qualitative analyses, and quantitative data, the report represents 15 regions in the country and covers 177 local governments (provinces, cities, and municipalities). From February to April 2010, The Asia Foundation's pool of regional experts undertook a rapid, qualitative investigation based on interviews with local government officials, national government agency personnel, and respondents from the private sector and non-government organizations. Quantitative information was used to supplement the qualitative analysis, a core strength of the appraisal.
From July 1992 until September 2000, USAID (through its Local Development Assistants Program and Governance and Local Democracy project) conducted a series of 10 Rapid Field Appraisals. These RFAs provided timely feedback on the policy, administrative, and political adjustments that needed to respond to the vision and goals of greater local autonomy set forth in the Local Government Code. This series of studies generated a wealth of knowledge on local governments' experience with decentralization and became a rich source of information that covered almost all the important aspects of Philippine decentralization, including central-local relations, devolution of personnel and assets, organizational management of local governments, capacity building, local development planning, delivery of services, civil society participation, national government management systems, technical assistance to local governments, and fiscal matters. Almost a decade after the last RFA, this information is still relevant and continues to be referenced in studies conducted on Philippine decentralization.
Since 2000, additional studies have been commissioned by bilateral and multilateral organizations to monitor the progress of decentralization and to assess the Local Government Code. Despite the extensive collection of existing information on the progress of decentralization in the Philippines, no systematic study has been conducted to measure the results of decentralization. Hence, the findings of the 11th RFA are even more important.
Read more about the Foundation's programs in the Philippines. For media inquiries, please visit the Press Room.