David D. Arnold at The Economist's Banyan Conference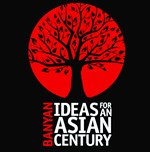 Despite spectacular growth, long-running conflicts continue to frustrate development in significant parts of Asia, The Asia Foundation's president, David D. Arnold, told a gathering of 250 high-ranking private and public sector leaders in October.
"Asia is a significant part of today's narrative," he said, speaking at The Economist's Banyan Conference, "Ideas for an Asian Century," in Singapore. But while much of Asia is experiencing rapid development, "its many turbulent corners are falling further and further behind the rest of the region in terms of economic integration and security."
The conference brought together leaders from government, the private sector, multilateral organizations, and international NGOs to discuss the economic dynamism driving the world's fastest-growing region, and the problems that perpetuate conflict.
"Long-running conflicts, many averaging more than 30 years, continue to present some of the most difficult challenges for delivery of aid and significant economic growth," said Arnold.
The Asia Foundation has a long history of programs in conflict-affected and fragile regions of Asia, including Afghanistan, Mindanao (Philippines), Nepal, Sri Lanka, Pakistan, Aceh (Indonesia), southern Thailand, and Timor-Leste.
Annual Report 2016
Addressing the critical issues facing Asia
View the report
Annual Report 2016
Addressing the critical issues facing Asia
View the report