Luce Scholars Program Marks 40 Years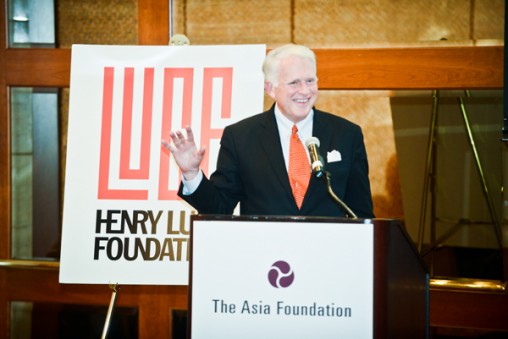 Since the Luce Scholars program was launched in 1974, The Asia Foundation has administered—in Asia—the signature program of the Henry R. Luce Foundation, a major effort to provide an awareness of Asia among future leaders in American society. On Sunday, May 19, 2013, at One UN Plaza in New York City, trustees of The Asia Foundation and the Luce Foundation, along with Luce Scholars from many of the classes, including the very first, gathered to honor and celebrate this remarkable forty-year partnership.
In his prepared remarks for the evening, Dr. Haydn Williams, President Emeritus of The Asia Foundation, touched upon the long and warm association between The Asia Foundation and the Luce Foundation, as well as their pioneering, cutting edge agendas: "Both foundations were early patrons of higher education in Asia, especially colleges for women," said Dr. Williams. "Luce was also an early important backer of The Asia Foundation's programs in law and human rights."
The Luce Scholars program is unique among exchange programs in that it is intended for highly qualified young Americans who might not otherwise have an opportunity to come to know Asia. The year-long program for up to 18 scholars every year provides stipends, language training, and individualized professional placements in Asia. The range of organizations that have hosted Luce Scholars over the years reflects the extraordinary dynamism and rich diversity of Asia, and is as broad as the scope of talents and interests of the scholars themselves.
This year's Scholars, the fortieth class, are assigned to public and private institutions in Cambodia, China, India, Indonesia, Korea, Laos, Malaysia, Taiwan, Thailand, and Vietnam, with placements including the Coral Triangle Center, Buddhism for Social Development Action, and the Law Reform Commission of Thailand.