Findings of New Myanmar Governance Study Presented in Washington, DC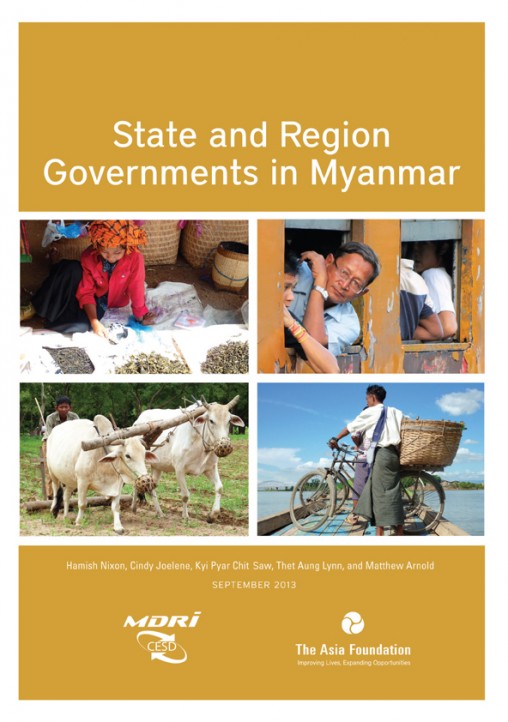 On October 23, The Asia Foundation's Washington office hosted a forum on the findings of its major subnational governance study, State and Region Governments in Myanmar.
Released by the Foundation in September in Yangon, the study analyzes the functioning of state and region governments created under Myanmar's 2008 constitution, assesses their ongoing impact on governance, peace, and decentralization reforms, and makes recommendations on strengthening fiscal planning, capacity, and responsiveness. Researchers from The Asia Foundation and the Centre for Economic and Social Development of the Myanmar Development Resource Institute (MDRI-CESD) collaborated on this pioneering study.
Speaking to a Washington audience of over 100 policymakers and development practitioners that was streamed live on The Asia Foundation website, co-authors Dr. Hamish Nixon, a governance specialist, and Dr. Matthew Arnold, Asia Foundation conflict and state fragility expert, as well as Dr. Zaw Oo, executive director of MDRI-CESD and a senior economic adviser to Myanmar's president, presented their perspectives on the challenges of decentralization and the opportunities it presents for progress toward inclusive and accountable democratic governance.
"Decentralization [is] linked to all types of transition in Myanmar; it is where people meet government," Dr. Zaw Oo explained during the panel presentation. He went on to discuss the country's long history of hierarchical governance, and the current leadership's commitment to decentralization reform, emphasizing the importance of minority inclusion within existing ministries. In private meetings with academics, government officials, and the diplomatic c­orps, the study's data and the team's insights were enthusiastically welcomed as important contributions to a little-understood policy area that will be key to the donor community's future efforts.
Supported by the UK Department for International Development (DFID), the study represents the first phase of ongoing research collaboration between The Asia Foundation and MDRI-CESD. Learn more about the Foundation's work in Myanmar and download the study here.
Annual Report 2016
Addressing the critical issues facing Asia
View the report
Annual Report 2016
Addressing the critical issues facing Asia
View the report