From the Archive: New Skills for Rural Women in Sri Lanka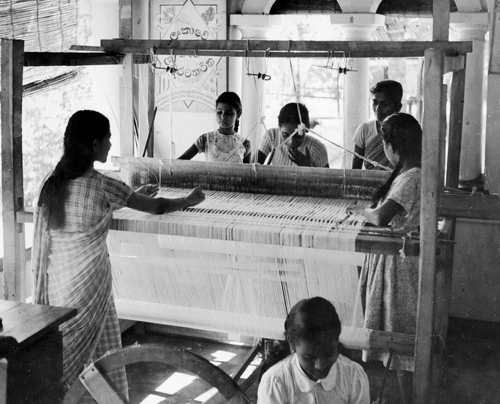 The Lanka Mahila Samithi (Ceylon Organization of Women) was the most extensively organized and influential voluntary organization in Ceylon (Sri Lanka) in the 1950s. With organization chapters in more than 1,000 villages, women were able to come together to tackle issues relating to health, childcare, and home-based industry. Volunteer organizers in each district visited village chapters regularly to assist in the work, and handicrafts produced by members were collected by the organizers and sold at a central retail outlet at the Samithi headquarters in Colombo.
In 1957, The Asia Foundation helped the Mahila Samithi add a new wing to its Kaduwela rural training center, thus substantially increasing its capacity for training. During the 1950s, the Kaduwela center trained more than 700 young women in a variety of skills. A further grant enabled the Mahila Samithi to buy a Volkswagen van equipped as a multi-purpose unit for cooking demonstrations, a mobile library, the transportation of handicrafts, and film presentations. The Foundation also helped establish 50 rural demonstration centers, consisting of model kitchens, nursery schools, libraries, and playgrounds. Situated throughout the nine provinces of Ceylon, demonstration centers provided past trainees from Kaduwela with an opportunity to pass on their knowledge to other rural women.
Annual Report 2016
Addressing the critical issues facing Asia
View the report
Annual Report 2016
Addressing the critical issues facing Asia
View the report