Asia Foundation Chief Economist Presents at Enabling Prosperity: Moving Beyond the Middle-Income Trap Conference in Bangkok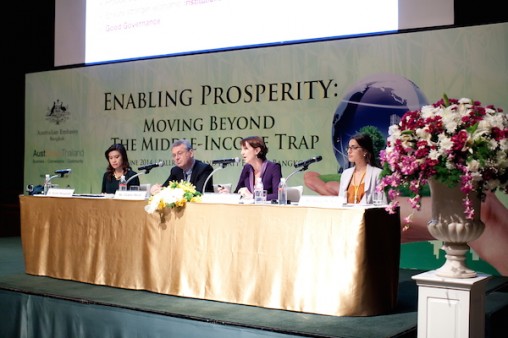 Bangkok, June 27, 2014 — On June 25 in Bangkok, Asia Foundation Chief Economist and Senior Director of Economic Development Véronique Salze-Lozac'h presented at the Enabling Prosperity: Moving Beyond the Middle-Income Trap conference hosted by The Australian-Thai Chamber of Commerce (AustCham) in conjunction with The Australian Embassy Bangkok. The conference gathered leaders from government, business, academia, and multilateral institutions to explore the notion of the middle-income trap, the implications it has on the Thai economy, and resolutions for both the public and private sector.
Participating in a panel discussion on "Deciphering the Middle-Income Trap: What is it? Why is it a problem? How does it affect you?" Salze-Lozac'h spoke on the Middle-Income Trap concept, the significance of a political economy approach to the issue, the need to look at the issue within the frame work of global and regional value chains, and the importance of services. She explained: "The Middle-Income Trap concept refers to the difficulties facing countries who have experienced rapid growth but seem to have reached a glass ceiling that prevent them from graduating to the next level. These countries, such as Thailand and Malaysia, seem unable to transition from a resource-driven growth, with low labor costs and relatively low capital intensive activities, to a productivity- and knowledge-driven high added-value economy."
Salze-Lozac'h continued: "The issue, and the challenges of improving productivity and competitiveness, have to be considered within the framework of global and regional value-chains. Increased fragmentation of production of goods and services across borders makes regional economic cooperation all the more important."
The Foundation has a long history of supporting economic growth across Asia through both public and private channels. The Foundation's approach is to empower local entrepreneurs with the tools, information, and resources they need to seize business opportunities and to work with government, local authorities, and civil society to improve business environments at the regional, national or local levels.
Read more about the Foundation's programs in Economic Development. For media inquiries, please visit the Press Room.
Annual Report 2016
Addressing the critical issues facing Asia
View the report
Annual Report 2016
Addressing the critical issues facing Asia
View the report