Asia Foundation Co-Hosts Panel on Women's Empowerment and U.S.-Japanese Cooperation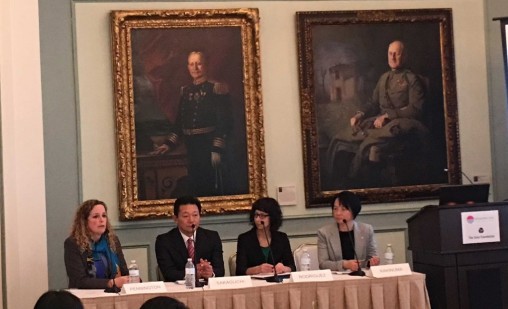 Washington, DC, March 9, 2016 — Today, The Asia Foundation co-hosted a public panel discussion with the Sasakawa Peace USA Foundation on U.S. and Japanese efforts in international development to empower women in Asia and opportunities for greater U.S.-Japan cooperation. Over 80 participants attended representing philanthropic foundations, non-profit organizations, government, research and policy centers, academia, and the private sector.
Two expert panels provided insights on effective strategies to empower women politically and economically, and to improve women's health. Each panel featured prominent U.S. experts, as well as Japanese NGO leaders who are participating in a week-long exchange program as part of the Sasakawa USA U.S.-Japan Civil Society Exchange Program.
The Asia Foundation's Acting Director of Women's Empowerment Eileen Pennington, and Asia Foundation Senior Advisor Abigail Friedman moderated the two panel discussions. Barbara Rodriguez, assistant director of the Women's Empowerment Program, discussed the Foundation's efforts to advance women's political and economic empowerment, including our work to support women's entrepreneurship in South Asia and to address women's needs through local governance in Timor-Leste, as well as steps the Foundation is taking to become a gender-smart organization.
Sasakawa Peace Foundation USA is an independent American non-profit, non-partisan institution devoted to research, analysis and better understanding of the U.S.-Japan relationship.
The Asia Foundation is a nonprofit international development organization committed to improving lives across a dynamic and developing Asia. Informed by six decades of experience and deep local expertise, our programs address critical issues affecting Asia in the 21st century—governance and law, economic development, women's empowerment, environment, and regional cooperation.
Read more about the Foundation's work.
For media inquiries, please visit the Press Room. Engage with us on Facebook, Twitter, and Instagram.
Annual Report 2016
Addressing the critical issues facing Asia
View the report
Annual Report 2016
Addressing the critical issues facing Asia
View the report