Asia Foundation's Ending Violence Against Women Project, Nabilan, Announces New Grant Awards On International Women's Day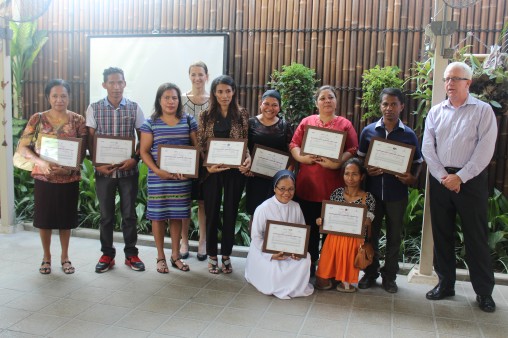 Dili, March 10, 2016 — To mark International Women's Day, The Asia Foundation announced 1.3 million USD in new grants to be awarded to nine civil society partners through the Nabilan: Ending Violence against Women program in Timor-Leste, today in Dili. Funded by the Australian Government and implemented through the Foundation, the grants aim to provide services to over a thousand women and children, including shelters, medical forensic examinations, counselling support and legal assistance for women seeking justice.
"Violence against women is a significant human rights violation that has profound and devastating impacts on its victims and society as a whole," said Peter Doyle, Australian Ambassador to Timor-Leste at the grant announcement event. "It undermines a country's social fabric and is a burden on national economies, with escalating costs to health care, social services, policing and the justice system."
A recent Health and Life Expectancy study by the Nabilan program confirms high rates of violence in Timor-Leste. Three out of every five ever-partnered women in Timor-Leste have experienced violence by a current or former intimate partner. Rates of child abuse, of both boys and girls, are very high (over 70 per cent). A large proportion of women experience rape during their lifetime, with most rape being perpetrated by a male intimate partner. This new data will be used to develop evidence-based behaviour change prevention activities in partnership with Civil Society Organizations (CSOs).
The new grants will also support radio programs intended to change social norms to reduce violence against women, personal development courses for local leaders, violence prevention in school communities, and individual level behaviour change programs to promote harmonious and non-violent relationships. Also, recognizing the increased risk of violence that women and children with disabilities face, one of the nine grants that the program is providing is to the disabled people's organisation, Raes Hadomi Timor Oan (RHTO).
"The cooperation that exists between the government and civil society organisations in Timor-Leste towards ending violence against women is unique," said Country Representative for The Asia Foundation in Timor-Leste, Susan Marx. "The Nabilan program grants recognize that the CSOs fill critical gaps in running shelters, providing counselling, medical and legal services and livelihoods support."
The Asia Foundation is a nonprofit international development organization committed to improving lives across a dynamic and developing Asia. Informed by six decades of experience and deep local expertise, our programs address critical issues affecting Asia in the 21st century—governance and law, economic development, women's empowerment, environment, and regional cooperation.
Read more about the Foundation's work.
For media inquiries, please visit the Press Room. Engage with us on Facebook, Twitter, and Instagram.