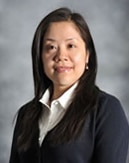 Program Officer, China
Huang Zhen is responsible for managing the Foundation's environmental programs in China, including the Pearl River Delta Environmental Protection Program, Green Entrepreneurs Training Program, Low-carbon Economy Planning with SMEs Program, and Strengthening Environmental Information Transparence and Public Participation in China Program. She also works in the China Administrative Law Program and is responsible for the activities regarding environmental information disclosure and public participation in the environmental policy making process. Prior to joining the Foundation, Ms. Huang was a lecturer on environmental law at the Law Department of China Women's University for four years, and a program officer at the LEAD-China office for three years (LEAD: Leadership for Environment and Development) where she managed projects such as renewable energy education, LEAD training, and Environmental Governance and Civil Society in China. Ms. Huang is also a LEAD (Leadership for Environment and Development) Fellow.
Education: B.A. and M.A. in Law from China University of Political Science and Law; MSc. in Environmental Sciences, Policy and Management from an EU Erasmus Mundus Master Program (jointly operated by Lund University, Central European University, and the University of Manchester).
Phone:
+86 (10) 6518-3868 ext. 21
Email:
[email protected]