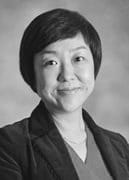 Country Representative, China
JI Hongbo is the country representative for The Asia Foundation's China office. In this capacity, she leads and supervises the foundation's operations and programs in China in the areas of law and governance, environment, disaster preparedness and management, women's empowerment, charity sector development, regional cooperation and U.S.-China relations.
She was formerly responsible for managing the Foundation's Open Government Information and administrative procedure legislative reform programs in China. She also managed the Foundation's ongoing international relations initiatives — including exchange programs such as the Young Diplomats Program with the Ministry of Foreign Affairs. Hongbo joined the Foundation in 2007 and initially worked on the Foundation's conflict mediation program in Xinjiang. Prior to joining the Foundation, she served for three years as assistant manager of the Sustainable Agriculture Development Project under the China-Canada Agriculture Development Program, a Cdn $20 million project funded by CIDA. This program promoted environmental sustainability through support for Chinese efforts to manage environmental issues linked to rural poverty in western regions of China.
Ji Hongbo worked as a consultant for the World Bank in both Washington, DC and Western China on poverty reduction and rural development projects. She also has five years of diplomatic experience, including work at the Permanent Mission of China to the U.N. in New York, and two years at the Ministry of Foreign Affairs as an interpreter at the prestigious Translation and Interpretation Department.
Education: Ji holds a bachelor's degree in English Language and Literature from Beijing Foreign Studies University, and a master's degree in International Relations, with a specialization in development studies from Yale University as a Henry H.L. Fan Fellow. She is currently pursuing a doctorate of philosophy in Administrative Law from the China University of Political Science and Law.
Phone:
+86 (10) 6518-3868
Email:
[email protected]