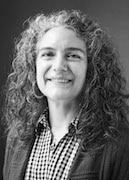 Country Representative, Bangladesh
Sara Taylor is The Asia Foundation's country representative in Bangladesh. She has more than fifteen years of experience in international development, with a particular focus on the democracy and governance sector. Taylor has prior experience living and working in Bangladesh, including service as a Peace Corps Volunteer in Natore, a town in the north-west of the country.
Prior to joining the Foundation, Sara Taylor was the Democracy and Governance Officer in the Office of Sudan and South Sudan Programs at the U.S. Agency for International Development (USAID) for five years, where she provided technical, management, and country expertise, spending approximately half her time in the field. In the context of post-conflict political and social transition, she worked across a broad range of democracy and governance issues and critical political processes, including 2010 nationwide elections in Sudan, the 2011 Southern Sudan Self-Determination Referendum, and South Sudan's independence.
Sara Taylor also previously managed the Bangladesh and Malaysia programs at the International Republican Institute (IRI). She cultivated relationships with local partners, civil society groups, activists, political parties, and parliamentarians in Malaysia, and during a period of increasing political violence in Bangladesh, managed long- and short-term international observation missions of postponed 2007 parliamentary elections that were ultimately held in 2008. In addition, she observed 2008 parliamentary elections in Mongolia with IRI, as well as 1998 parliamentary and 1999 presidential elections in Slovakia with the Organization for Security and Cooperation in Europe.
Education: Sara Taylor holds a master's degree in Sustainable Development under the Graduate Program in Intercultural Service, Leadership, and Management at the School for International Training, and a bachelor's degree in Russian Studies and English from The College of William and Mary.
Phone:
+880 (2) 882-6941 to 43
Email:
sara.taylor@asiafoundation.org