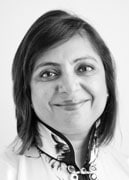 Former Country Representative, Pakistan
Sofia Shakil served as The Asia Foundation's country representative in Pakistan from 2017 to December 2018. Sofia Shakil holds over two decades of experience in the human development sector with a focus on education, public sector policy, and governance reform. Trained as a development economist and education specialist, Sofia Shakil has held several full-time and consulting positions with the World Bank, Asian Development Bank, international NGOs, multi-lateral organizations, and donors.
Most recently, Sofia Shakil was Senior Education Specialist at the Asian Development Bank (ADB), where she led project operations and policy research and advisory work in human development in the People's Republic of China and Mongolia. At ADB, Sofia Shakil designed and obtained approval for the first Results Based Lending Program loan for ADB in Sri Lanka, prepared the education assessment and roadmap for the country partnership strategies for Sri Lanka, Mongolia, and China, developed the human resource development strategy as part of the Tourism Master Plan for the Maldives, and led projects and policy work in the areas of vocational education reform, elder care services, and graduate employment initiatives. She also served as social sector Focal Point in Sri Lanka and the Maldives. Prior to her appointment at ADB, she worked in the World Bank's South Asia Human Development team.
Sofia Shakil has spent a significant part of her career working in Pakistan and other countries in South Asia, including as a Senior Education Specialist for the World Bank, where she successfully designed and implemented an education sector results based financing program for Punjab education reforms and managed several projects in the area of girls' education. She has also served as Program Development Manager for Save the Children and Program Manager for Policy and Research for the Aga Khan Rural Support Programme. She also worked as a freelance Education and Development Planning Consultant.
Education: Master's degree in Economics from the London School of Economics and bachelor's degree in International Relations and Politics from Sophia University in Tokyo, Japan.
Email:
sofia.shakil@asiafoundation.org