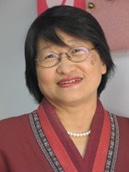 Program Officer, Thailand
Since October 2001, Ms. Yupa has been the Foundation's full time program officer in Thailand, where she manages and develops programs focused on women's empowerment, trafficking in persons, legal and constitutional reform, and civic participation in local governance. In recent years, she has also contributed her expertise to The Asia Foundation's civic participation in local governance programs in the conflict-affected areas of southern Thailand. During her years at the Foundation, she has regularly contributed her proficiency in developing national training curriculum on counter-trafficking programs based on human rights and gender perspectives. In addition to her role at the Foundation, Ms. Yupa serves on several committees of both governmental departments and independent organizations, such as on a sub-committee of the National Human Rights Commission of Thailand, and on two separate sub-committees under the Ministry of Social Development and Human Security: one promoting women's participation in politics and administration and the other developing national training curriculum on anti-human trafficking.
Prior to working at The Asia Foundation, Ms. Yupa spent seven years as a lecturer at Yonok College before attending training courses on gender issues. She then served as a trainer on gender equality for women's advocacy organizations while also holding the position of coordinator at the Center of Education for the Advancement of Lanna Women, Faculty of Education, Chiang Mai University.
Education: B.A. in history from Chulalongkorn University; M.P.A. in Public Policy and Project Management from National Institute of Development Administration; and Mini M.B.A. from Yonok College.
Phone:
+66 (0) 2-233-1644
Email:
yupa.phusahas@asiafoundation.org