Afghanistan is a country in transition and continues to face significant challenges that require improvements in security, the economy, governance, and education. The past year saw steps forward in education and women's rights, declining levels of migration, and continued commitments from the international community, but much more progress is needed to create a stable and democratic society. The Asia Foundation supports the Afghan people through local programs and partnerships focused on improving rule of law, access to and quality of education, women's rights and empowerment, regional cooperation.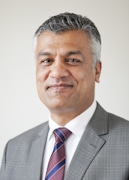 Abdullah Ahmadzai
Country Representative
Afghanistan in 2018: A Survey of the Afghan People
After four years in power, the National Unity Government (NUG) continues to face persistent challenges. Parliamentary elections were held in October 2018 across most of the country, after a three-year delay due to disputes over electoral reforms and instability. Insecurity has been a main concern for Afghans in every election since 2001 and this year was no exception, particularly given the deadly attacks on voter-registration centers across the country just before the Survey fieldwork was conducted. The Survey of the Afghan People is the longest-running and broadest nationwide survey of Afghan attitudes and opinions. Since 2004, the Survey has gathered the opinions of more than 112,000 Afghan men and women, providing a unique longitudinal portrait of evolving public perceptions.
Educating women and girls
We support training in science, mathematics, and computer literacy to teachers and others in over 120 Afghan schools, reaching more than 12,000 female teachers and students. Of the more than 8,000 Afghan children who directly benefit, nearly 6,000 are girls. Funded by USAID, the Strengthening Education in Afghanistan project also prepares Afghan girls in Kandahar province for the national public university entrance exam. Last year, 78 percent of girls who received support passed the 2018 exam and gained entry to a four-year national university. Another 10 percent will pursue higher education at two-year national higher education institutions.
Mobilizing Changemakers for our Sustainable Future
Meet Akshat Singhal and Sohara Mehroze, two of our 2019 Asia Foundation Development Fellows.
Mobilizing Changemakers for our Sustainable Future