Cambodia's decade-long path of private sector-driven growth has yielded important but uneven development benefits for citizens. In this context, we empower women by supporting educational opportunities, economic inclusion, and safety and security; equip youth with skills for the future economy; support integrated regional development; and improve public service delivery.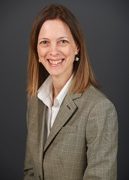 Meloney Lindberg,
Country Representative
An atlas of gender and environment
Environmental challenges significantly impact Cambodians, as patterns of drought and flood intensify. While it is often cited that women are disproportionally affected by environmental changes, research is limited. Now, with support from USAID, our Atlas of Gender and Environment provides data on ways climate change and disasters directly impact women and men in Cambodia. When viewed alongside environmental data, the 60 interactive maps in the Atlas suggest where to build climate resilience and advance women's empowerment and gender equality. A stakeholder workshop with 69 participants, including 29 women, disseminated the results.
TEK4Good
With a median age of 25, Cambodians have eagerly adopted the latest mobile and internet technology, but young Cambodian entrepreneurs in the tech industry need support and an enabling environment to bring their ideas to fruition. We've built an open co-working space for tech startups in our office in Phnom Penh. So far, we've supported four local startups, including a woman-run company, and hosted multiple skill-sharing events for entrepreneurs, students and experts. These programs have already been recognized for their impact. Education start-up WeduShare grew from a three-person team to more than 10 full-time staff, and its revenue allowed the company to rent a dedicated outside office space. Web and mobile developer Codingate won the 2017 Cambodia Rice Bowl Awards for best startup and best founder, and its founder has been featured in Forbes Magazine's "30 under 30" in Asia: Enterprise Tech.