New Strategy Paper Launched on Indonesia-Australia Relations
May 28, 2008 —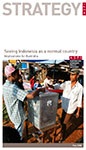 A new Australian Strategic Policy Institute strategy paper entitled "Seeing Indonesia as a normal country – Implications for Australia" was launched today in the Australian Parliament House in Canberra, with Foreign Minister Stephen Smith officiating. The paper, by Douglas Ramage, The Asia Foundation Representative in Indonesia, and Andrew MacIntyre, professor of political science and Director of the Crawford School of Economics and Government at the Australian National University, is designed to take stock of developments in Indonesia and identify ways of enhancing the Australia-Indonesia bilateral relationship.
An op-ed on Australia-Indonesia relations written by the authors of the strategy paper recently appeared in the Melbourne Age. Read the op-ed now.
Visit ASPI's site to download the Strategy Paper.