Election Morning in the Philippines
November 5, 2008
Almost two months ago, at the time of the U.S. Democratic and Republican political conventions, I blogged here in In Asia about being the nonpartisan commentator on the local cable news channel, ABS-CBN News Channel (ANC " seen in the United States on The Filipino Channel).  I was delighted to be asked back to analyze the presidential election results as they came in yesterday.
Since interest in the election here in Manila  was so high, live coverage began at 5:00 am (4 pm ET).  Election returns only began to flow at 8:00 am (7 pm ET), so that's when our part began.  Besides the anchor and myself, there was one representative each from Democrats Abroad and Republicans Abroad.  As Americans are accustomed to, as soon as polls closed in each state, the networks would "call" it for one candidate or the other (based on an esoteric combination of exit polls and early vote counts).
But before we could start commenting on the horse race, coverage cut away to an Election Day event hosted by the American Embassy at one of the big Manila Malls.  Large screen TVs were carrying cable feeds, hundreds of Filipinos as well as the general public had been invited, and dozens of USAID and Embassy officials were on hand to explain the intricacies of the U.S. electoral process.  Ambassador Kristie Kenney gave a lively interview where she praised democracy, talked about the solemn responsibility of citizens when choosing to change their leaders, and denied that her choice of red clothing was anything but a patriotic symbol.  She also urged the interviewer to join other Filipinos there in the mall in the mock election being carried out.
It turns out that most of those who voted in the mock election went for Obama — but real votes by Filipino-Americans were not so definite.  ABS-CBN has correspondents all over the United States — from Virginia to Florida to Texas to California (where the largest number of Filipino-Americans live).  We heard from correspondents about a general feeling of excitement, votes for McCain in Texas, and for Obama in California.  Until we have exit poll data, the best information comes from the National Asian-American Survey conducted in August, where the only Asian ethnicity to favor McCain were the Vietnamese.  All other Asian ethnicities were pro-Obama, but Filipino-Americans were least so.  This lack of enthusiasm was echoed in the Philippines itself where a Social Weather Stations survey found that 76% of Filipino citizens felt that it did not matter for the Philippines who won.  That left 13 percent who said it would be "better for RP if Barack Obama wins", and nine percent who said it would be "better for RP if John McCain wins."  Interestingly, in 2004, 26 percent preferred Bush and eight percent preferred Kerry, making the Philippines one of the three places on earth outside the U.S. where Bush was preferred  (the other two were Poland and Nigeria).
These were the kind of Philippine-specific details that were discussed.  Otherwise, the topics would be familiar to all viewers of a cable news network anywhere:  the increased importance of the economy in voters decisions after the economic setbacks of September;  how Senator McCain's status as hero and maverick allowed him to make a contest, despite 90% of  U.S. citizens feeling the country was on the wrong track; the depth of Senator Obama's fund-raising that allowed him to contest many states that might otherwise have been given up as hopeless; and what the election meant for the United States and its place in the world.
One particular topic that came up was the depth of partisan division and rancor — and whether that might hamper any new President's ability to govern.  I was able to display a graphic that comes from Slate's blog, "The Big Sort."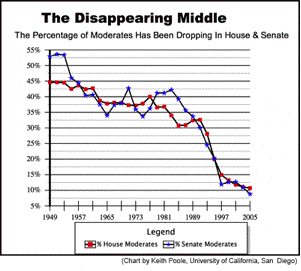 This graphic shows that both houses of Congress have experienced a steep decline in the number of "moderates" — conversely there has been a rise in partisan division.  The analysts of "The Big Sort" ascribe this to a drift of Congressional Districts and even States into increasingly partisan configurations, produced by Americans moving themselves into more homogeneous communities.  Whatever the source of division, Senator Obama in particular had repeatedly called (ever since his 2004 Democratic Convention speech) for America to rise above those divisions.
The panelists were settling in for the long haul, when I called attention to the "breaking news" on the screen " that ABC and CNN had called Pennsylvania for Obama.  I remarked, and the panel agreed, that all scenarios for a McCain win included Pennsylvania, so this early result boded ill for Senator McCain.  During the subsequent commercial break, the producer decided that was time to bring on a new panel — two Filipino political scientists who were to discuss the international implications of the election.  Less than two hours after beginning, our part of the "election watch" was over.  Shortly thereafter, Senator McCain conceded and President-elect Obama made his acceptance speech.
I was struck by some  final thoughts on the election that were sent to me.  One a quote from a Filipino journalist, Thea Alberto at the Inquirer.net, who said, "we should learn from Americans how to lose graciously."  And another from an American living in another country, "It's Redemption.  Nothing less.  Extraordinary."  Illustrating one problem that President Obama will face — unrealistic expectations.
Steven Rood is The Asia Foundation's Country Representative in the Philippines. He can be reached at tafphil@asiafound.org.
About our blog, In Asia
In Asia
is a weekly in-depth, in-country resource for readers who want to stay abreast of significant events and issues shaping Asia\'s development, hosted by
The Asia Foundation
. Drawing on the first-hand insight of over 70 renowned experts in over 20 countries,
In Asia
delivers concentrated analysis on issues affecting each region of Asia, as well as Foundation-produced reports and polls.
In Asia
is posted and distributed every Wednesday evening, Pacific Time and is accessible via email and RSS. If you have any questions, please send an email to
editor.inasia@asiafoundation.org
.
Subscribe
Contact
For questions about
In Asia
, or for our cross-post and re-use policy, please send an email to
editor.inasia@asiafoundation.org
.
The Asia Foundation
465 California St., 9th Floor
San Francisco, CA 94104
Mailing Address:
PO Box 193223
San Francisco, CA 94119-3223