Postcards from America: Lessons for Nepal
December 17, 2008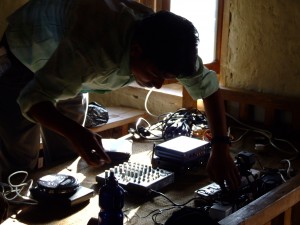 Recently, a Nepalese radio production team from Antenna Foundation Nepal, a radio production and training house based in Kathmandu, traveled to eight American states to gather stories from over 300 members of the Nepali diaspora in the United States. The team, including Madhu Acharya and Rajan Parajuli, conducted countless interviews, over 60 of which are featured in a 12-episode series called Postcards from America.  The stories range from student experiences to business opportunities, state services to civic responsibility, discrimination to rule of law, and reflections from once famous Nepali celebrities on their dreams and sacrifices.
The aim of Postcards from America was to give a Nepali audience a window into American values and culture, but the project's outcome went much further.  Postcards from America balanced emotional stories of Nepali hardships and successes with the challenges of migrating to America. For the first time, the Nepali people heard honest stories of immigrant experiences as opposed to the often-glorified perceptions of life in America. The stories contradicted the rural perception across Nepal that one's struggle to success ends with the attainment of an American visa or the green card.
Less than a decade ago, with the insurgency in Nepal escalating, Kathmandu saw the immigration of hundreds of Nepali artists to America. Under the U.S embassy's special category — visa for "national figures" — Nepal lost some of its most popular and creative citizens.  Nepalis' perception was that the American government provided Nepali celebrities many more opportunities for fame and respect than they ever received in Nepal. This, however, was not the reality. The most gripping interview with a Nepali celebrity was with actor Saroj Khanal who left Nepal at the peak of his career. In America he traded in his thriving acting career for a job at a restaurant. "Acting is in my blood," he says, but when he sees his sons growing up with a strong sense of responsibility, independence, and work ethics as a result of the American culture and education, he has no regrets about the decision he made several years ago.
The episodes clearly answer why the Nepali middle class comfortably performs tasks they would never consider doing in Nepal, such as serving in restaurants or department stores, or driving a cab. For them, there is no social stigma attached to any job in America. They see America as a country with a highly functional system of governance, with rules and regulations that are not biased towards the rich. Therefore, if you work hard and pay your taxes, anyone can start from scratch and make it big. The interviews convey the sense of hope derived from the concept that there are laws promoting small businesses that give anyone with creative ideas the opportunity to fulfil their dreams and make their hard work pay off.  Throughout the episodes, appreciation of state services and rule of law — as well as civic responsibility — resonate. The episodes provide a detailed glimpse into why America is the most popular destination for Nepali migrants.
I was especially touched by the reflections of a 65-year-old woman who says she finally experienced freedom, respect, and confidence in America. She expresses amazement that even an uneducated woman like her could make a living in America, as a baby sitter, while, she says, her role would have been limited to staying home in the kitchen in Nepal. She says, "In America, there is no predefined role for a woman… I would like our daughters, daughter-in-laws and granddaughters in Nepal to be liberated the way I have been."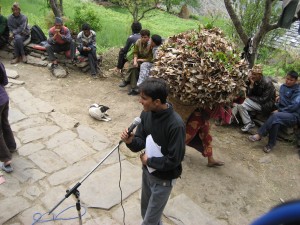 Postcards from America has been airing to a broad, rapt audience of 8.5 million people, back in Nepal during an intensely interesting time, with a large and diverse group of elected representatives in the Constituent Assembly attempting to redefine the constitution of Nepal. At a time when social inclusion is a key area of debate in Nepal, stories of strong laws that deter expression of discrimination in America are especially apt. The episode on American rule of law provides a sharp contrast to the way things function in Nepal, providing for an interesting discussion on how strong a state presence Nepal wants. The programs provide humorous accounts of Nepalis wondering how and why pedestrians in America obey traffic lights even when the roads are empty; and why vehicles abide by the rules of the road even when police aren't around. For the Nepalis', who experience almost no state presence in their daily lives, stories of strict law enforcement in America leave most Nepali's stunned. For example, when the police conduct an instant background check on the basis of one's date of birth — or when they are required to pay fines for placing their foot on an empty train seat.
It is estimated that more than a million Nepalis currently live as labourers, students, or professionals in various countries across the globe. Ten percent of this population, mostly falling under the latter two categories, live in the US. While the government of Nepal boasts remittances from this population to be the backbone of the economy, contributing 10-16 percent of Nepal's total GDP in the last few years, the corresponding brain drain has been turned a blind eye.  Postcards from America provides insight into the reasons behind why so many Nepali immigrants are drawn to America each year.  View a film on Postcards from America here.
June Ghimire is a Program Officer for The Asia Foundation in Nepal. She can be reached at jghimire@asiafound.org.
About our blog, In Asia
In Asia
is a weekly in-depth, in-country resource for readers who want to stay abreast of significant events and issues shaping Asia\'s development, hosted by
The Asia Foundation
. Drawing on the first-hand insight of over 70 renowned experts in over 20 countries,
In Asia
delivers concentrated analysis on issues affecting each region of Asia, as well as Foundation-produced reports and polls.
In Asia
is posted and distributed every Wednesday evening, Pacific Time and is accessible via email and RSS. If you have any questions, please send an email to
editor.inasia@asiafoundation.org
.
Subscribe
Contact
For questions about
In Asia
, or for our cross-post and re-use policy, please send an email to
editor.inasia@asiafoundation.org
.
The Asia Foundation
465 California St., 9th Floor
San Francisco, CA 94104
Mailing Address:
PO Box 193223
San Francisco, CA 94119-3223