In Nepal: Countering Violence against Women in Post-Conflict Nepal
March 4, 2009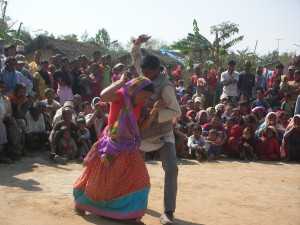 I recently watched a local Nepali theater group skillfully combine theater with politics to explore gender-based violence in conflict-affected communities.
Developed in the 1970s by a Brazilian political activist and director, "The International Theater of the Oppressed" is a method that has been practiced in theaters across the globe to help communities address social injustices. A drama is acted out in scripted mode until it reaches the climax; then, at that moment, the audience is asked to collectively reflect on the problem and is invited into the drama to "rehearse" the preferred ending they envision for their communities.
When I arrived to see the first performance at Aarohan Theater in a Tharu village in the Kailali district of mid-western Nepal, the midday sun was beating down. The actors were dressed in colorful traditional Tharu costumes and were dancing and singing to attract an audience. I was particularly pleased to see a large number of women and their small children already gathered for the performance.
The play began with a very typical scene in these villages: the wife doing household chores and the husband shouting to her to make him tea and breakfast. It continued to depict the daily hardships in the village and the struggles of the Tharu people. Then one night, the husband came home drunk and began belligerently shouting at his wife. During this scene, one woman in the audience, sitting near me, commented out loud to all of us (including the Aarohan director), that this scene frequently played out in her own house. She softly laughed, but her eyes were sad.
The narrator stopped the play at a dramatic point when the husband was about to beat his wife. He then asked for comments from the audience. The woman seated near me loudly suggested from her seat that he should not beat his wife. The narrator asked her to join the drama and act out what the wife should say next to the husband. At first she refused, but after some encouragement from the Aarohan director and other audience members she approached the "stage" and proceeded to speak out against the abuse. Although her moment in the spotlight was short, she had a chance to rehearse what she wanted to do in real life; to fight against the violence she faced.
The audience also shouted out other ideas and solutions, such as asking neighbors to intervene or going to a mothers' or women's group for assistance. After more than an hour of discussion and debate, the husband in the play finally signed an agreement stating he would not beat his wife. This action was facilitated by the local mothers' group members. Through these exercises developed by "Theater of the Oppressed," the audience not only got to suggest the outcome they wanted for the play; they also got to practice how to make that outcome a dramatic reality, in essence learning how to deal with gender discrimination and oppression in real life in the process.
As the group performed, I was surprised by the boldness of these village women in the audience and their courage to speak out against their own oppressive situations. While tradition and religion have long relegated Nepali women to a lower status than men, the decade-long armed conflict in Nepal has severely exacerbated the inequality in male-female relationships, increasing women's vulnerability to exploitation and violence. Things that have contributed to the disproportionate impact of the conflict on women include damage to traditional social and economic networks, loss of male heads of household, forced displacement, and reduced access to health and educational facilities. The breakdown of community safety networks has also resulted in marked increases in the incidence of threats, rape, sexual harassment, and exploitation perpetrated against women.
Even today, women in the most conflict-affected areas of Nepal continue to encounter high incidences of domestic violence in their homes. According to a local survey taken in Mid-Western Nepal, of the 190 married women interviewed, 91 percent reported domestic violence perpetrated by their husbands in the past two years. Survey results also revealed that 86 percent of respondents were forced into non-consensual sex, 70 percent reported physical injuries such as slapping, arm twisting, hitting with fists or other objects, pushing, kicking, or choking, and 50 percent reported injury with a weapon at least once. As a consequence of such abuse, these women not only suffered from scratches, abrasions, bruises, cuts, bites, and sprains, but 79 percent also became severely depressed and even contemplated suicide, while 14 percent of those attempted to do so.
Building awareness of these effects on women, their families, and communities is a way to create an environment where gender-based violence is not tolerated. The Asia Foundation has supported Aarohan Theater, which pioneered this interactive theater format (Kachahari) in Nepal, to train their district-level partners to use this new technique and engage the public to critically reflect and act on gender-based violence challenges. The local theater groups are performing more than 120 shows, reaching more than 36,000 people.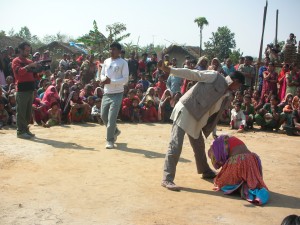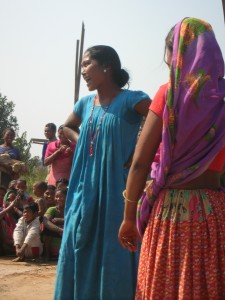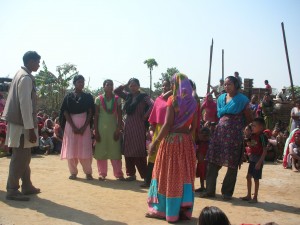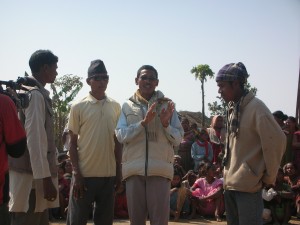 Jannie Kwok is a Program Officer at The Asia Foundation's office in Kathmandu, Nepal. She can be reached at jannie@taf.org.np.
About our blog, In Asia
In Asia
is a weekly in-depth, in-country resource for readers who want to stay abreast of significant events and issues shaping Asia\'s development, hosted by
The Asia Foundation
. Drawing on the first-hand insight of over 70 renowned experts in over 20 countries,
In Asia
delivers concentrated analysis on issues affecting each region of Asia, as well as Foundation-produced reports and polls.
In Asia
is posted and distributed every Wednesday evening, Pacific Time and is accessible via email and RSS. If you have any questions, please send an email to
editor.inasia@asiafoundation.org
.
Subscribe
Contact
For questions about
In Asia
, or for our cross-post and re-use policy, please send an email to
editor.inasia@asiafoundation.org
.
The Asia Foundation
465 California St., 9th Floor
San Francisco, CA 94104
Mailing Address:
PO Box 193223
San Francisco, CA 94119-3223