Hope for Afghan Girls
March 25, 2009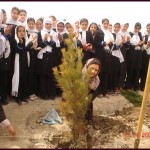 Rabia-e Balkhi Girl's High School was established in Kabul, Afghanistan, over 40 years ago. Before Afghanistan's civil war, many of its graduates were accepted into prestigious university faculties to study medicine and law. During the civil war, however, nearly 90 percent of the school's facilities were destroyed. In late 2001, after the Taliban fell and girls were allowed to return to school, Rabia-e Balkhi suddenly had to accommodate more than 2,000 new students in make-shift tents or jerry-rigged spaces amongst the rubble of the original school grounds. These "classrooms" lacked windows, doors, chalkboards, or furniture – making school an uncomfortable environment for learning, to say the least.
Rabia-e Balkhi's teachers and staff needed help in removing the rubble, rebuilding classrooms and infrastructure destroyed in the war, and providing a safe, vibrant learning atmosphere for these deserving – and long-deprived – female students. For the school's long-term future, Rabia-e Balkhi's leaders also needed to build the capacity of the school's administration and manage their resources effectively. There is a significant gender gap in Afghanistan's education system, now being felt in its workforce.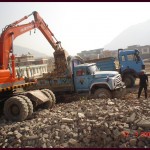 Since January 2002, The Asia Foundation has been leading efforts to improve educational opportunities for girls in Afghanistan. With support from The National Geographic Society and the Richard and Rhoda Goldman Fund,  the Foundation has helped to rebuild 14 classrooms at Rabia-e-Balkhi School and to establish five science labs. The National Geographic Society also built a Library and Resource Center that serves as a modern, multi-purpose library and resource center for women and girls in Kabul. This center, located on the school grounds, also houses a computer lab with 22 computers where the students learn computer skills. This center is  a model for the Ministry of Education, helping to improve access to learning for girls and to support young women's leadership in an otherwise war-torn country.
Today, 3,500 girls attend Rabia-e Balkhi High School in grades K-12 and, for the first time, have access to a library and the Internet. The school's leaders have honed budgeting and management skills to more effectively administer school resources and secure additional funding for future maintenance – helping them to become more self-sustaining. And Rabia-e Balkhi's rubble has been removed, buildings and roofs have been repaired, and a garden has been planted – providing a safe haven for girls eager to make a contribution to Afghanistan's reconstruction and future.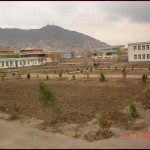 Bulbul Gupta is The Asia Foundation's Grants Manager for Programs and Private Philanthropy. She can be reached at bgupta@asiafound.org.
About our blog, In Asia
In Asia
is a weekly in-depth, in-country resource for readers who want to stay abreast of significant events and issues shaping Asia\'s development, hosted by
The Asia Foundation
. Drawing on the first-hand insight of over 70 renowned experts in over 20 countries,
In Asia
delivers concentrated analysis on issues affecting each region of Asia, as well as Foundation-produced reports and polls.
In Asia
is posted and distributed every Wednesday evening, Pacific Time and is accessible via email and RSS. If you have any questions, please send an email to
editor.inasia@asiafoundation.org
.
Subscribe
Contact
For questions about
In Asia
, or for our cross-post and re-use policy, please send an email to
editor.inasia@asiafoundation.org
.
The Asia Foundation
465 California St., 9th Floor
San Francisco, CA 94104
Mailing Address:
PO Box 193223
San Francisco, CA 94119-3223