In Mongolia: Democracy's Roots Grow Deeper with the Presidential Election
June 3, 2009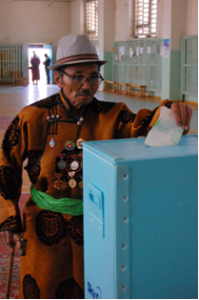 Pre-election polling indicated it would be a tight race between Mongolia's two presidential candidates: the incumbent President N. Enkhbayar, representing the former Communists' Mongolian People's Revolutionary Party (MPRP), and the opposition candidate, Ts. Elbegdorj, representing the Democratic Party. There was also speculation on how free and fair the elections would be: The Asia Foundation's Voter Education Survey cited 46 percent of Ulaanbaatar residents believed some malfeasance would occur in the election. Furthermore, tension ran high in the run-up to the election over concern that there may be a repeat of the rioting and deadly violence that followed last year's Parliamentary Election, in which the MPRP won the majority of the seats.
President N. Enkhbayar has had a long history of political power in Mongolia and was believed to have strong support from the countryside. His party also held the majority of seats in Parliament. It was rumored that he had been advised by high-level international campaign strategists, which included both Russians and former aides to President Bill Clinton. The highly-visible visit of Russia's former president, Vladimir Putin, that took place a week before the election and during which a number of mineral-related deals were discussed, was considered a boost to President Enkhbayar's campaign.
His opponent, Ts. Elbegdorj, campaigned on a platform for change that mimicked and drew on the President Barack Obama's campaign. Billboards all over the city had a horse pulling the question, "Will you change?" Another campaign message was, "Let's change: we need to get rid of corruption, poverty, unemployment, and public servant billionaires." Considered the underdog, Ts. Elbegdorj was aggressive in promulgating his message and seizing on the perception that the current government had not delivered on its promises made in last year's Parliamentary election. Ts. Elbegdorj seemed to have the support of the urban population; he needed to work hard to earn votes away from President Enkhbayar in rural areas.
On the Thursday evening leading up to the May 24th election, I hosted a small gathering of Mongolians to watch the only televised presidential election debate. Feeling personally inspired by the recent U.S. presidential election, I was curious to see how Mongolians viewed their own candidates and debated the pressing issues facing the country. Although the gathering included a majority of people supporting the Democratic Party, it proved to be a fascinating evening full of insights into the election and overall democracy in Mongolia.
While watching the debate, my Mongolian colleagues deliberated how Mongolia's debate compared with the past U.S. presidential election debate. They also discussed how well the candidates answered randomly-selected questions on the previous post-election violence; how to reform the judiciary; mining; reducing poverty; and attracting foreign investment. Most felt that the opponent, Ts. Elbegdorj, clearly won with clear answers and strong points made. Others, however, pointed out that typical Mongolians prefer the simple language and stately demure of the incumbent president.
In response to my Mongolian colleagues' complaints that the debate could have been better with stronger questions, I pointed out that it was one of the few real democratic debates that have taken place in the region. My colleagues reminded me that they prefer to measure their progress in democracy against the U.S. rather than other Central Asian neighbors. I was impressed with this viewpoint, given that Mongolia shares a common history with the former Soviet states and established democracy just 19 years ago.
On Sunday, May 24th, more than a million Mongolians, 73 percent of the country's eligible voters, went to the polls to elect their fifth president. The Asia Foundation coordinated 27 volunteer observer teams that visited 95 percent of the polling stations across Ulaanbaatar and conducted interviews with 248 voters. Based on the limited scope of the monitoring effort, the Foundation is not able to assess whether the elections were free and fair. However, overall, observation teams reported that the election ran smoothly. A local NGO network reported that 88 percent of the politically-affiliated local observers also thought the election was free and fair.
As an observer, I was able to visit nine polling stations across an area that was populated with apartment blocks and "ger" districts, sprawling informal neighborhoods where families live in yurts and often lack essential services. The mood on Election Day was vivacious. It was remarkable how many people came out to vote. Some of them, especially the older ones, were dressed in their best traditional clothes. Most everyone seemed proud to be taking part in the process. It was clear that Mongolians take their right to vote seriously and they generally seem grateful for their democratic rights.
With approximately 3,000 people registered to vote at each station, polling station workers had a long and busy day. From what I observed, most polling stations were set up properly. Citizens would show their identification, get confirmed on the register, pick up their ballot, mark their ballot in privacy, and insert it into a large collection box. On their way out of the polling station, citizens had their IDs stamped and fingers inked. The largest disturbances I witnessed were women protesting that the ink would ruin their manicure; an older man who could not read the ballot and yelled that he needed to borrow someone's glasses; and some local observers accusing other observers of taking pictures of ballots, indicating vote-buying.
Polls opened at 7:00 am and closed at 10:00 pm in Mongolia, marking one of the longest polling days in Asia. Some of the Foundation's observer teams showed extraordinary dedication to the process by staying up until the early hours of morning to observe the entire counting process at certain polling stations. This effort was above and beyond the call of duty. Personally, I tried to stay through the count, but when the registers had not been reconciled by midnight and no one was using computers or calculators, I was ready for bed.
At 9:00 a.m. on May 25, 2009, the Democratic Party claimed victory and called for a march on the main square. Much to people's surprise, around noon, the MPRP went on television to concede defeat before official results were in. President Enkhbayar thanked voters and congratulated President-elect Ts. Elbegdorj. Many Mongolians viewed this surprising act as a validation of Mongolia's commitment to democracy.
According to the official count, Elbegdorj won with 51.2 percent of the vote while President Enkhbayar got 47.4 percent. On the evening of May 25th, the main square was filled with fireworks and exuberant celebrations. I was told that there had not been such a celebration since Mongolia won a medal in the Olympics. There have been few formal complaints over the election process; most feel that democracy in Mongolia is alive and well.
Beverly Hoover is Acting Country Representative for The Asia Foundation in Mongolia and can be reached at [email protected].
About our blog, InAsia
InAsia
is a bi-weekly in-depth, in-country resource for readers who want to stay abreast of significant events and issues shaping Asia's development, hosted by
The Asia Foundation
. Drawing on the first-hand insight of renowned experts,
InAsia
delivers concentrated analysis on issues affecting each region of Asia, as well as Foundation-produced reports and polls.
InAsia
is posted and distributed every other Wednesday evening, Pacific Time. If you have any questions, please send an email to
[email protected]
.
Contact
For questions about
InAsia
, or for our cross-post and re-use policy, please send an email to
[email protected]
.
The Asia Foundation
465 California St., 9th Floor
San Francisco, CA 94104
Mailing Address:
PO Box 193223
San Francisco, CA 94119-3223
2022 Impact Report
Thank you for powering The Asia Foundation's mission to improve lives and expand opportunities.