In Sri Lanka: Economic Revival in Landslide-prone Nuwara Eliya
June 24, 2009
Situated at Sri Lanka's highest point, the Nuwara Eliya District is one of the county's most popular tourist destinations with refreshingly cool breezes that offer a respite from the sultry tropics of the lowlands. The hillsides shimmer a vibrant green from the tea bushes that produce the famous Ceylon tea enjoyed throughout the world. The residents of this mountain retreat, however, have a far different story to tell.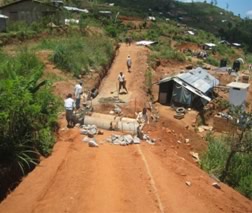 A combination of factors, including erosion, heavy rains, and urbanization, have greatly increased the risk of landslides in the area, making residents of Nuwara Eliya vulnerable. In January, 2007 alone, for example, landslides and flooding displaced over 18,000 people from Walapane and Hanguranketha, resulting in a massive need for shelter and aid. While immediate aid is obviously crucial, much of the area's infrastructure and morale was also badly damaged, making long-term, post-disaster rehabilitation and development essential.
When disasters occur, those affected rely on the local government for immediate relief and short- and long-term rehabilitation. Without comprehensive relief and aid, affected areas are also in danger of experiencing conflict between host communities and the internally displaced.
The Asia Foundation and the International Organization for Migration (IOM), through a grant from the Australian Agency for International Development (AusAID), have helped communities and the government to respond to the natural disaster and become better prepared for future ones. The project has made remarkable progress in a relatively short period of time. IOM provided immediate relief to the landslide affected communities and met their need for access to water and sanitation.  The Asia Foundation facilitated coordination between communities and local government to address the communities' longer terms needs, including their need for permanent shelters, and worked with disaster management institutions to develop policies and guidelines for mitigating risks and expediting government responses to future emergencies.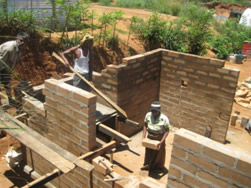 Working to organize local housing committees that identify shelter needs and resources, the Foundation is providing rebuilding tools, such as cement stabilized earth bricks and round poles as roofing materials to rebuild sustainability and structurally. We've developed and provided community members with architectural plans, so that those constructing their own permanent shelters will incorporate precise technical specifications and cost estimates to better mobilize financial resources and start rebuilding their homes and lives.
We've helped formulate policy guidelines to influence future government-assisted landslide relief and rehabilitation efforts. In the future, a national policy will enact measures that will minimize the vulnerability of communities in landslide-prone areas, and provide better coordinated response efforts between disaster management agencies. In addition, and perhaps most important, is incorporating disaster considerations into local development planning.
Nilan Fernando is The Asia Foundation's Country Representative in Sri Lanka. He can be reached at nfernando@asiafound.org.
About our blog, In Asia
In Asia
is a weekly in-depth, in-country resource for readers who want to stay abreast of significant events and issues shaping Asia\'s development, hosted by
The Asia Foundation
. Drawing on the first-hand insight of over 70 renowned experts in over 20 countries,
In Asia
delivers concentrated analysis on issues affecting each region of Asia, as well as Foundation-produced reports and polls.
In Asia
is posted and distributed every Wednesday evening, Pacific Time and is accessible via email and RSS. If you have any questions, please send an email to
editor.inasia@asiafoundation.org
.
Subscribe
Contact
For questions about
In Asia
, or for our cross-post and re-use policy, please send an email to
editor.inasia@asiafoundation.org
.
The Asia Foundation
465 California St., 9th Floor
San Francisco, CA 94104
Mailing Address:
PO Box 193223
San Francisco, CA 94119-3223