Vietnam: New project to Support Libraries and Internet Access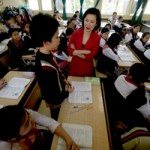 The Asia Foundation received its first ever grant from the Bill & Melinda Gates Foundation in support of a new 18-month project to strengthen public library institutions and support public Internet access in Vietnam. The project will help expand the public's access to information in rural areas and provide opportunities for Vietnamese citizens to significantly improve their daily lives.
The Asia Foundation will work closely with its long-term partner, the National Library of Vietnam (NLV), and other public library institutions in Vietnam to expand access to information, especially for disadvantaged groups and communities. Under this initiative, approximately 90 public library staff at the provincial and district levels, and 270 commune staff from 90 selected sites, will be trained to educate library patrons on effective use of the Internet, significantly increasing their access to information.