Behind the Scenes: 2009 Survey of the Afghan People
September 2, 2009
Agha Gul could not have asked for anything better than a horse and an escort familiar with the rugged terrain to accompany him as he made his climb up the mountain path. His journey would have otherwise taken two hours to tread by foot. Thankfully, the village headman had provided the horseback ride to Agha to reach an adjacent village located in the mountainous Mandol district. An interviewer from Agha's team who was there a week prior was not as lucky and had to negotiate the steep climb by foot.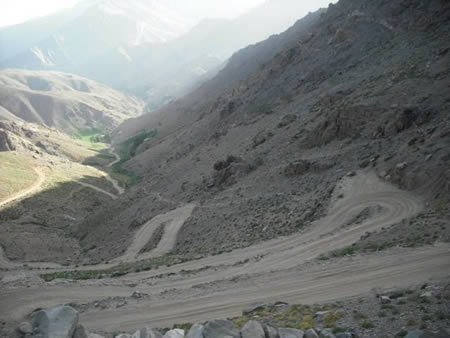 Agha is the supervisor for a team of 16 interviewers in Nooristan province. Together, they are part of a 648 men and women survey team from across the country involved with The Asia Foundation's pioneering "Survey of the Afghan People." This climb was part of an elaborate exercise to quality-check eight interviews conducted earlier in the village by a member of his team.
These interviews comprise the fifth survey conducted by The Asia Foundation since 2004, which covers the largest population sample ever surveyed at one time in all 34 of Afghanistan's provinces. The aim of the surveys is to generate useful information for policy makers in the government, civil society, and the general public. Information is collected on contemporary issues related to governance, economy, development, security, elections, women's rights, justice sector, and more. This year, the survey questionnaire gathered timely opinions about the August presidential election. Over 6,000 Afghans, half of them women, were randomly selected for face-to-face interviews. The interviews are conducted for the Foundation by the Afghan Centre for Socio-Economic and Opinion Research (ACSOR-Surveys), which also manages extensive training sessions for the interviewers.
Interviews are conducted in the months of June and July to avoid the harsh weather conditions during winter, which adds to the list of issues that make conducting any survey in the country difficult. To account for the various political, cultural, and social sensitivities in each unique region, all interviewers and supervisors work in their own provinces where they are familiar with local customs and dialects. All interviews are conducted in person and can last anywhere between 60 minutes and two hours.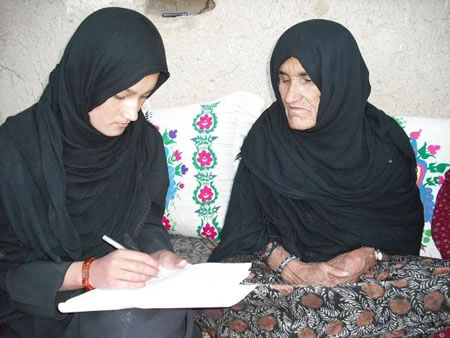 Agha's horse ride is not unique. These four-legged beasts of burden commonly carry people from one destination to the other across Afghanistan's mountainous terrain. When available, our survey teams use horses or donkeys to get to the selected sampling point as the lack of infrastructural support makes travel very difficult. Sampling points are generated at random and dispersed across the 34 provinces in the country. This randomized distribution makes good methodological sense but logistically poses many practical problems. Whenever interviewers encounter sampling points that require more than two hours of walking they inform the central office and receive an alternative sampling point in its place.
The public transportation system is also very underdeveloped, with only bi-weekly shuttles that connect some towns in the provinces with the province centres. More often than not, private cars must be hired to travel away from the centre to as far as the road conditions allow for driving. A case in point from Daikundi province perhaps lends credence to this fact. Sayed Farid tells me of certain sampling points in villages that are located as far as a seven-hour drive from the district centre of Shahristan. A four- to five-hour drive from district centres is very common in most provinces.
Perhaps even more difficult are the prevailing infrastructural conditions in Badakshan province in the North-Eastern region. Hamidullah, who supervises the survey in Badakhshan, describes interviewers having to wade across rivers to get to some of the villages as there are no bridges. Some of the villages are so remote that the only occasional outsiders who have visited gave away relief and aid packages. When our survey team arrived, the villagers expected the same and were disappointed when aid and food were not offered. This response is commonly encountered while conducting surveys in the country, and more so because the survey includes questions on problems in their local area and government service delivery.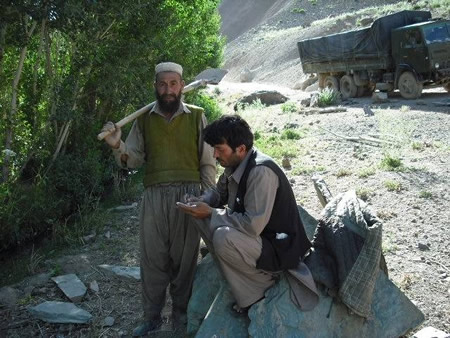 For another fieldwork supervisor, Mohammad Ismael, the problem is of a different kind. He and his team of interviewers operate in Helmand, one of the most insecure provinces in the country. Four of the 13 districts in the province are completely closed to fieldwork. In the remaining districts, the teams monitor the security situation closely and maintain a low profile to successfully conduct the interviews. The Taliban routinely set up road blocks in this area and have been known to confiscate mobile phones and rough up those who may appear to have links with the Afghan government. Carrying anything in print, like our questionnaire, is extremely dangerous because it could be mistaken for government propaganda. The interviewers carry the survey materials concealed under their clothing. In these areas, even people from the neighboring districts or provinces can be identified as "outsiders." This is why it is so important to coordinate interviewers from the same area so that their knowledge of the locality helps them in their task.
In such an insecure environment, a very important aspect is maintaining contact with the local leaders and elders. The interviewers carry with them letters of introduction from ACSOR's central office and always meet with the local leaders or tribal chief. An acceptance from the local leader goes a long way to ensure safety of the interviewers and, in some cases, it also means assistance with accommodation, directions, and transportation.
The survey sample is equally split among men and women. In Afghanistan, only female interviewers can interview women respondents. In many conservative parts of the country it is very difficult to interview women even with this provision, as interaction with strangers is not always permitted by their families. Female interviewers are also hard to recruit. Since women can't travel far from their homes, female interviewers must be recruited from areas close to the interview locations. The female interviewers also need to be escorted by a mahram, a male chaperone who is a close relative, when they are outside their homes.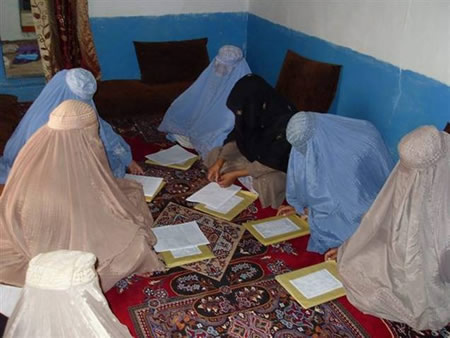 In a country where literacy rates are very low, educated people who could serve as interviewers are hard to come by and educated female interviewers are even more rare. Literate men and women usually find better paying jobs in the area so the usual sources for recruitment are teachers and college students. Training, especially for the women interviewers, is difficult as they are not always able to travel to the provincial centre due to restrictions from their families. In such situations, trainings will then take place in smaller groups within the province.
Every year as the new survey is planned, lessons learned from earlier surveys are discussed and changes incorporated as necessary. In 2009, the number of interviews at each sampling point was changed to eight from 10 interviews in past years. This increased the overall number of sampling points and gave a better and wider sample spread and distribution across the country.
The survey of the Afghan people is an attempt to bring the voices from across the country to the attention of those at the centre and make them heard, especially to those that have the power to make a difference. The power to influence change, no matter how difficult the trip, makes the journey worthwhile.
The fieldwork for the 2009 "Survey of the Afghan People" concluded in July and the findings are planned for a release in October. Collectively, these five surveys establish an accurate, long-term barometer of public opinion across Afghanistan to help assess the direction in which the country is moving.
Sunil Pillai is an Asia Foundation Program Officer in Afghanistan. He helps manage a nationwide survey in Afghanistan that involves nearly 700 people who train interviewers, who canvass the rugged geography of Afghanistan to collect opinions, from more than 6,000 Afghans in different parts of the country, and supervise the process of assembling the largest population sample ever surveyed at one time there. In June, field teams were dispatched to all 34 provinces to identify the most pressing issues facing Afghans in 2009. The 2009 poll will be released in October. Sunil can be reached at spillai@asiafound.org.
About our blog, In Asia
In Asia
is a weekly in-depth, in-country resource for readers who want to stay abreast of significant events and issues shaping Asia\'s development, hosted by
The Asia Foundation
. Drawing on the first-hand insight of over 70 renowned experts in over 20 countries,
In Asia
delivers concentrated analysis on issues affecting each region of Asia, as well as Foundation-produced reports and polls.
In Asia
is posted and distributed every Wednesday evening, Pacific Time and is accessible via email and RSS. If you have any questions, please send an email to
editor.inasia@asiafoundation.org
.
Subscribe
Contact
For questions about
In Asia
, or for our cross-post and re-use policy, please send an email to
editor.inasia@asiafoundation.org
.
The Asia Foundation
465 California St., 9th Floor
San Francisco, CA 94104
Mailing Address:
PO Box 193223
San Francisco, CA 94119-3223