Luce Scholars Embark for Asia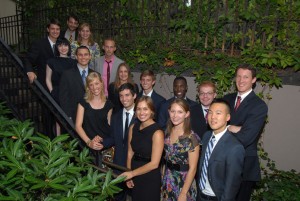 Sixteen new Luce Scholars, members of the 36th class, are now beginning their 10-month fellowship placements with organizations in China, Hong Kong SAR, Indonesia, Japan, Korea, Taiwan, Thailand, Vietnam, and, for the first time, the Lao PDR.  Since the program was started by the Henry Luce Foundation in 1974, the long list of organizations that have hosted more than 550 Luce Scholars – promising young American leaders in their twenties – is a "who's who" of notable Asian universities, think-tanks, technical institutes, NGOs, media outlets, companies, and arts/cultural organizations. The organizations mirror the range of interests of the Luce Scholars from year to year, ranging from economic development, law, legislative affairs, and foreign policy to environment, human rights, health, the arts, and science and technology. The Asia Foundation has administered the Asia portion of the program since its inception.
The 2009-2010 class includes two scholars heading to mainland China, Michael Chaitkin at Renmin University's School of International Studies and Mark Wehling at Peking University's Guanghua School of Management. Host organizations in Hong Kong include Reset HK Ltd., hosting Nicholas Anderson, and the Hong Kong Academy of Performing Arts' School of Film and Television, where Jeffrey Miller is placed. Katherine Otto's host organization in Indonesia is Rumah Cemara/Bandung Plus Support and Lauren Weeth is with the Indonesian Planned Parenthood Association/Jogjakarta. Jeremy Jangord will be in Japan at the Tokyo Visual Arts College's Department of Photography. Korean placements include Nathaniel Gleicher at the National Information Society Agency, Andrew Gruen at OhMyNews, and Brittan Heller at Gong-Gam, Korean Public Interest Lawyers' Group. The first-ever Luce Scholar in Laos, Micah West, will be with the Lao Bar Association in Vientiane. In Taiwan, Jason Ferguson will be with the Women's Research Program in the National Taiwan University's Center for Population and Gender Studies. Jelena Djordjevic will be with the Community Organizations Development Institute, and Rachel Harper with the Population and Community Development Association in Thailand. In Hanoi, Jennifer Cimaglia's host organization is the Vietnam Institute of Archaeology and Yongjun Heo's hosts are the Institute for Population and Development Studies and the Community Health and Development Organization (LIGHT).
Nominated by American universities and selected by external review panels comprised of Asia experts and former Luce Scholars, the scholars are exposed to the work and social culture of their respective countries and gain firsthand understanding of Asia through placement at the host organizations. Once there, they assist with activities that may include research, teaching, program implementation, business planning, reporting, and public outreach.
Leaders on the Frontlines
Tuesday, September 10, 2019, San Francisco
Honoring
First president, UN Environment Assembly, Dr. Oyun Sanjaasuren, and former US Secretary of State George Shultz
Leaders on the Frontlines
Tuesday, September 10, 2019, San Francisco