Where in the World is Morwakee?
October 21, 2009
A group of local villagers crowded around us, some offering suggestions and some just watching the delightful spectacle of a group of foreigners lugging boxes of books. A local colleague who had driven us patiently over rugged, unmarked, rarely-traveled roads, peered at the map on the wall of the school as he tried to find the village of Morwakee – where, unbeknownst to us, we now stood after a three-hour drive from the closest city through wide forest trails thick with mud from the heavy rains.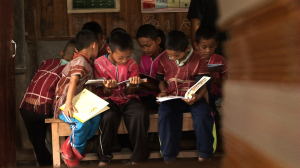 "It's not here," he proclaimed after a thorough search. "It's not on this map."
Or any other map, as it turns out. Cartographically speaking, Morwakee does not exist.
But it's there, deep in the mountains of Northern Thailand. Secluded from modern Thai society, Morwakee is a village of the Karen hill tribe. The community is one of farmers, most of whom spend their day in rice fields or weave their tribe's colorful fabrics. Cows and chickens wander about, and pigs and dogs frequent the village school for a chance at left-behind lunch scraps.
We had heard about this overlooked Thai village, and its tiny Morwakee School, which runs entirely on whatever little money the village can spare and some donations. The villagers, we heard, had built the school on their own, sturdy, weatherproof, and by far the largest building in the village. It has three classrooms, and the villagers are hoping to build a new library. We had heard, though, that the school didn't have any books. In fact, not one of the students had ever even seen a book.
We had come here because their teacher had asked Books for Asia for help. Our assignment was to help stock the new library. But we wanted to do something more for these kids who had never owned a book: We wanted to bring each of them their very own children's book. And not just any book. We requested our Thai colleagues to find out the five most popular Thai storybooks, and each child got to choose from the five. We traveled with our colleague, Ms. Suntaree Kongmuang, who helps coordinate the Books for Asia program there. As filmmakers in the Foundation's Digital Media department, we wanted to make a short film that would remind us that this basic part of childhood is impossibly out of reach for millions of children.
Remote places like Morwakee exist all over Asia, and though they may not appear on any maps, their isolated residents long for information and books. We will never forget the tiny student at Morwakee School carefully picking his way word by word through his first storybook, as his friends sat by his side and followed along.
And now, Books for Asia will send your favorite book to Morwakee School. Watch the video and vote or go to Facebook and vote – we'll take care of the rest. Books for Asia will donate the winning book.
Matthew Pendergast and Jon Jamieson are Producers on The Asia Foundation's Digital Media team. They can be reached at mpendergast@asiafound.org and jjamieson@asiafound.org respectively.
About our blog, In Asia
In Asia
is a weekly in-depth, in-country resource for readers who want to stay abreast of significant events and issues shaping Asia\'s development, hosted by
The Asia Foundation
. Drawing on the first-hand insight of over 70 renowned experts in over 20 countries,
In Asia
delivers concentrated analysis on issues affecting each region of Asia, as well as Foundation-produced reports and polls.
In Asia
is posted and distributed every Wednesday evening, Pacific Time and is accessible via email and RSS. If you have any questions, please send an email to
editor.inasia@asiafoundation.org
.
Subscribe
Contact
For questions about
In Asia
, or for our cross-post and re-use policy, please send an email to
editor.inasia@asiafoundation.org
.
The Asia Foundation
465 California St., 9th Floor
San Francisco, CA 94104
Mailing Address:
PO Box 193223
San Francisco, CA 94119-3223