Afghanistan in 2009: A Survey of the Afghan People
October 27, 2009
2009 has been a formative year for the people of Afghanistan. In the 12 months since The Asia Foundation conducted its last survey of Afghan public opinion in 2008, the domestic and international landscape has shifted considerably, heralding renewed emphasis on this nation determined to find its path forward in the post-Taliban era.
Defined by presidential and provincial council elections and an uptick in insurgent activity, these shifts have delivered both noted accomplishment and tragedy in 2009. Despite modest improvements in basic infrastructure, public services, education, and health, civilian and military casualties have reached unsettling levels. Add natural disasters, inclement weather conditions, and a renewed anti-insurgency campaign in Pakistan to the dynamic and conditions are considerably difficult for the average Afghan.
These challenging surroundings notwithstanding, The Asia Foundation's office in Kabul successfully conducted its fifth nationwide assessment of Afghan public opinion and released those findings today at 8:30 am in Kabul.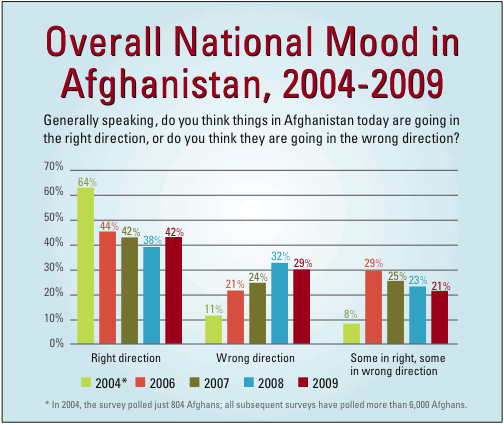 Aiming to provide policymakers and influential actors in government, civil society, the international community, and the broader Afghan citizenry with useful, actionable information, Afghanistan in 2009: A Survey of the Afghan People is a comprehensive assessment of national perception in several key policy areas including security, economy, governance, democratic values, and women and society. Expanding from its limited scope in 2004 and building upon previous surveys conducted in 2006, 2007, and 2008, the 2009 survey continues to track core appraisal areas while revising its nuances and methodology to meet contemporary constraints and demands. The survey's value can be found in its reliable consistency to measure public perception systematically in each passing year, making it an important public policy tool and "snapshot" barometer of public opinion in Afghanistan.
The 2009 survey, like previous surveys, employed a standard questionnaire designed to solicit actionable responses from typical Afghans which would prove useful to policy makers, social researchers, and donor organizations and their interventions. In addition to core tracking questions included in the questionnaire since the survey's initial inception in 2004, the Foundation consulted with select experts, stakeholders, and donors for review and suggestions for new assessment elements in 2009. This is reflected in the survey by a greater emphasis placed in the areas of sub-national governance, economy and development, women and society, and democratic values at the request of stakeholders. The conduct of presidential elections in 2009 also played a palpable and influential role throughout.
Operationally, 648 field surveyors throughout all 34 provinces of Afghanistan interviewed 6,406 adult Afghans between June 17 and July 6, 2009, to construct the 2009 report data sets. The field work was conducted prior to the August 20 elections.  Sample points were randomly distributed proportional to geographical and residential characteristics with "Kish" grids to select the individual respondents. Instability, the presence of active fighting, logistical constraints, and natural impediments such as flooding in some provinces caused a number of sampling points to be tactically adjusted or replaced to keep interviewers out of harms way and able to conduct their collection of data. The survey questionnaire, as well as full details on the methodology of the survey, is available in this report.  Mr. Sunil Pillai, management analyst in our Kabul office, oversaw the data collection, and recently blogged here, in In Asia, about the complexities and challenges of collecting the interviews.
The Survey of the Afghan People provides a view of  Afghan perceptions at a specific point in time, and is a useful tool to measure shifts in public opinion.  It also represents the most visible product of a comprehensive approach by The Asia Foundation to build Afghan research capacity.
Details of the survey can be found here.
Michael Haines is the Deputy Country Representative in Afghanistan and can be reached at mhaines@ag.asiafound.org. Ruth Rennie, Sudhindra Sharma, and Pawan Sen are the report's authors.
About our blog, In Asia
In Asia
is a weekly in-depth, in-country resource for readers who want to stay abreast of significant events and issues shaping Asia\'s development, hosted by
The Asia Foundation
. Drawing on the first-hand insight of over 70 renowned experts in over 20 countries,
In Asia
delivers concentrated analysis on issues affecting each region of Asia, as well as Foundation-produced reports and polls.
In Asia
is posted and distributed every Wednesday evening, Pacific Time and is accessible via email and RSS. If you have any questions, please send an email to
editor.inasia@asiafoundation.org
.
Subscribe
Contact
For questions about
In Asia
, or for our cross-post and re-use policy, please send an email to
editor.inasia@asiafoundation.org
.
The Asia Foundation
465 California St., 9th Floor
San Francisco, CA 94104
Mailing Address:
PO Box 193223
San Francisco, CA 94119-3223