Obama to South Korea
November 18, 2009
We welcome President Barack Obama with open arms, not just out of customary habit among friends. South Koreans share the world's interest in President Obama's global activities because he embodies a new path for the United States in international relations as well as in ties with old allies like us.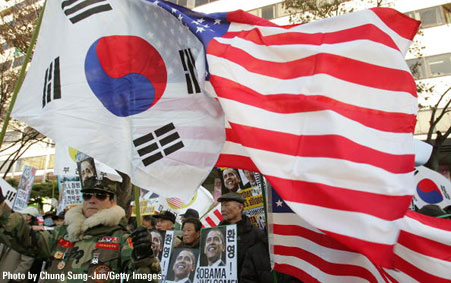 Quality of life has been fundamentally transformed and revolutionized through the innovations spawned from the information revolution.
At every momentous turn in history we cannot help but ask if traditional beliefs and values like freedom, equality and justice will continue to have the same significance and validity in the new age.
America is no longer the world's single superpower, amid declining military and political influence in world affairs. Moreover, it lost face in the aftermath of the Wall Street-sparked financial meltdown.
The nation faces a crossroads at which it must define its new role in a diversified global environment. And President Obama happens to be the man standing at the door to a new future for America and the world, holding the key.
The U.S. is a melting pot of various ethnic groups and cultures. It is the world's first federal republic run by democratic procedure. The world has watched its trials and experiments during its turbulent journey over the last two centuries.
The first African-American president has meaning beyond politics, as it serves as a reassurance of the American dream. Americans undoubtedly have regained their pride and confidence through their choice in last year's election.
President Obama's platform for global peace and prosperity has been gathering support throughout the world. He has put his foot down on urgent issues such as climate change and the proliferation of weapons of mass destruction, and drawn attention to other important problems such as the intensifying wealth gap both among and within countries. Obama has traveled the world campaigning for cooperation on these issues.
His pronounced stance has reinforced American leadership on the global stage and will likely mean positive progress for future Korea-U.S. relations.
The three East Asian countries President Obama is currently visiting are economies that have grown at a staggering speed, accompanying rising status and influence in the global community, becoming the envy of other parts of the world.
Read the full piece originally published in JoongAng Ilbo on November 17.
Dr. Lee Hong-koo is a trustee of The Asia Foundation, a former prime minister, and a former ambassador to the United States. He received his Ph.D. in Political Science from Yale University.
About our blog, In Asia
In Asia
is a weekly in-depth, in-country resource for readers who want to stay abreast of significant events and issues shaping Asia\'s development, hosted by
The Asia Foundation
. Drawing on the first-hand insight of over 70 renowned experts in over 20 countries,
In Asia
delivers concentrated analysis on issues affecting each region of Asia, as well as Foundation-produced reports and polls.
In Asia
is posted and distributed every Wednesday evening, Pacific Time and is accessible via email and RSS. If you have any questions, please send an email to
editor.inasia@asiafoundation.org
.
Subscribe
Contact
For questions about
In Asia
, or for our cross-post and re-use policy, please send an email to
editor.inasia@asiafoundation.org
.
The Asia Foundation
465 California St., 9th Floor
San Francisco, CA 94104
Mailing Address:
PO Box 193223
San Francisco, CA 94119-3223