BULLETIN
Winter 2009/2010
Beating the Odds: Distributing Books in Pakistan
By Syed Zahid Abbas and Alma Freeman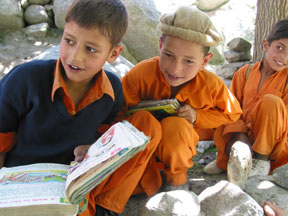 The Asia Foundation's Books for Asia program has donated more than 3 million books in Pakistan to date, and continues its long history of donating books to the now-turbulent country today, in spite of challenges of violence, illiteracy, and displacement.
Attacks, rising violence, and threats to schools that have challenged the ban on girls' education have all presented growing security risks. Delivering books to each individual institution in areas in which daily brutal attacks have become the norm, is virtually impossible. In response to this dire need for books in outlying areas, Books for Asia began hosting "Book Fairs" that provide a centralized, secure location in far-flung provinces such as Peshawar or Quetta, allowing local institutions to travel a short distance to pick out books themselves. The fairs are wildly successful and have allowed the program to distribute nearly 40,000 books so far through this model, including to institutions in the North-West Frontier and Baluchistan Provinces.
Pakistan's literacy rate, at around 50 percent, remains an acute development challenge. The battle against illiteracy is partly due to a lack of educational institutions; other factors include poverty, a lack of teachers, reluctance to send girls to school, security concerns, and insufficient commitment from the government.
These challenges are more severe for children internally displaced by conflict. Approximately 2 million people have been displaced from northwest Pakistan in the past year, and thousands of children now live in camps for Internally Displaced Persons (IDP). Tent schools are being built in the camps, and Books for Asia has begun donating books. However, host institutions normally pay freight fees, and the IDP schools are in no position to take on such a cost.
Reviving Books for Asia's "Box Libraries Initiative" could be part of the solution. Running from 1986 to 1990, the initiative provided local- and English-language books packaged in large metal boxes for distribution to community schools and resource centers that lacked the sufficient infrastructure to support full shipments. Providing box libraries could help complement the curriculum and better prepare students when they return home.
Syed Zahid Abbas is the Manager of the Foundation's Books for Asia Program in Pakistan, and Alma Freeman is The Asia Foundation's Communications Specialist.