BULLETIN
Winter 2009/2010
On the Ground in Asia: Talk Show Debuts in Thailand to Tackle Human Rights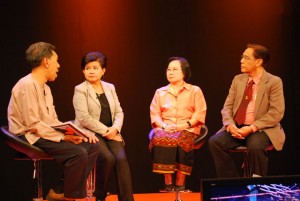 Let's Talk Rights, a new weekly TV talk show in Thailand featuring debates between policymakers, government officials, academics, and citizens on issues such as land disputes, human rights, community rights, and gender equality, recently made its debut. The one-hour program, which is supported by The Asia Foundation, will air every Thursday on Thai PBS at 10 a.m. in the Thai language.
"We will tackle subjects that are controversial in nature," says former National Human Rights Commissioner Sunee Chaiyarose, who will moderate the program. "To address challenging issues, differences need to be openly discussed in a respectful way, and not ignored." Ms. Sunee was a member of the Constitution Drafting Assembly and played a significant role in bolstering the human rights agenda in the 1997 Constitution drafting process. She is also a respected authority on community rights and labor law issues.
The show's first episode featured discussions on contentious industrial projects in Rayong province and on the role of special security laws in curbing the ongoing insurgency in the south. Content from Let's Talk Rights is available on YouTube.