From Cambodia: Survey Marks Improvement in Business Environment
January 6, 2010
After a global economic slump in 2009, Cambodia welcomed World Bank forecasts that projected its economy would grow in 2010. However, despite an auspicious start to the New Year, the imbalanced growth between Phnom Penh and the provincial areas are major concerns for improved and sustainable economic development. The private sector in Cambodia, particularly the micro, small, and medium enterprise (MSME) sector that constitutes the bulk of the country's economy, has been inhibited in its ability to grow and create jobs because of a wide spectrum of institutional barriers and development constraints.
In order to better understand such impediments to growth and to better understand how provinces are contributing to or preventing business growth, The Asia Foundation and the International Finance Corporation collaborated to develop the Provincial Business Environment Scorecard (PBES) in Cambodia.
The scorecard measures the quality of business environments at sub-national levels by ranking provinces against each other based on 10 sub-indices, such as entry procedures, property rights, transparency, informal charges/bribes, and more. First conducted in 2006, the 2009 survey involves comprehensive interviews with 1,234 firms in all 24 provinces of Cambodia. By measuring and ranking Cambodia's provinces against each other in terms of the quality of their business environment, the PBES provides an opportunity for the private sector and the national and local authorities to express their opinion on things that are working well or not in a given province. It also offers an opportunity to exchange best practices across provinces, an incentive to improve, and a tool for targeted policy reforms.
Although some findings indicate that certain areas of the business environment have improved since 2006, there are some areas where further reforms are much needed. The table below summarizes the change in sub-indices performance between 2006 and 2009. Upward arrows represent positive changes, downward negative, and sideways arrows represent ambiguous developments.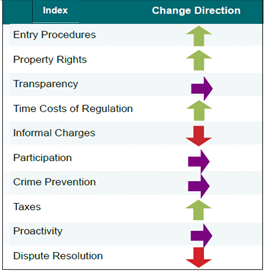 Nearly 96 percent of Cambodian enterprises are micro enterprises with less than 10 employees, and 90 percent of these micro enterprises operate only within their home province. Those Micro Small and Medium Enterprises (MSMEs) face a wide range of constrains. Informal fees, for example, were mentioned by 75 percent of the businesses as a major obstacle for business operation.
A medium-sized car garage owner in Phnom Penh said that "We cannot avoid informal charges when dealing with government officials. We have to spend more or less depending on the case and person. I've paid informal charges even to obtain licenses or to negotiate tax payment, fire inspection, and inspection by the economic police. I think the officials' low salary and the heavy bureaucratic and ineffective procedures are the main cause of corruption. Thus, without informal fee payments, we can't get things done as we want to."
Another major constrain for business operation is dispute resolution. The study finds that only 22 percent of firms in the median province believe that the legal system will protect their property rights. Correspondingly, only 41 percent of respondents were satisfied with resolution of their contractual disputes over the past year, and 65 percent of businesses were not successful in recovering payments owed to them by delinquent clients. The lack of confidence in formal means of dispute resolution raises the risk of doing business and has the potential to limit business expansion and growth.
In remarks by H.E. Cham Prasidh, senior minister of the Ministry of Commerce, at the PBES launch earlier last year, he acknowledged that "The PBES is a good indicator of where efforts should be concentrated to improve specific areas of the business environment. It can also indicate over time where reforms have been successful and tangible improvements have been achieved," while remarks by provincial governors at the provincial dissemination workshops recognized that "The PBES report has provided us with useful information related to our strengths and weaknesses in terms of quality of business environment. As a result, we can identify and prioritize areas where improvements are required for making policy reforms to improve the business environment of MSME."
Improved local-level business environments will help these communities reduce their costs, improve their access to markets and other business development services, and facilitate their economic activities. Such studies as this raise awareness on the myriad of constraints faced by the private sector and help create a culture of dialogue among the different actors for a more efficient way of doing business.
Véronique Salze-Lozac'h is The Asia Foundation's Regional Director for Economic Programs in Cambodia. Khut Inserey is a Senior Program Officer and Ratha Kim is a Program Officer, both in the Foundation's Cambodia office. The can be reached at [email protected], [email protected], and [email protected], respectively.
About our blog, InAsia
InAsia
is a bi-weekly in-depth, in-country resource for readers who want to stay abreast of significant events and issues shaping Asia's development, hosted by
The Asia Foundation
. Drawing on the first-hand insight of renowned experts,
InAsia
delivers concentrated analysis on issues affecting each region of Asia, as well as Foundation-produced reports and polls.
InAsia
is posted and distributed every other Wednesday evening, Pacific Time. If you have any questions, please send an email to
[email protected]
.
Contact
For questions about
InAsia
, or for our cross-post and re-use policy, please send an email to
[email protected]
.
The Asia Foundation
465 California St., 9th Floor
San Francisco, CA 94104
Mailing Address:
PO Box 193223
San Francisco, CA 94119-3223
Lotus Leadership Awards
Honoring Reshma Saujani, G-Star RAW Denim Foundation, and Kampuchea Action to Promote Education