Asia Foundation Conflict Expertise in the Philippines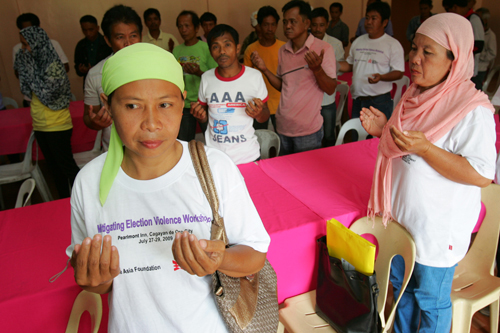 Recently, The Asia Foundation was invited by the Government of the Republic of the Philippines (GRP) and the Moro Islamic Liberation Front (MILF) to serve on the International Contact Group (ICG) to support the next stage of peace negotiations between the Philippine government and the MILF to end conflict in Mindanao.
The ICG is comprised of a select number of countries and international NGOs. The Asia Foundation will network with stakeholders in the negotiation, coordinate with the Facilitator (Malaysia) to provide research input, and give feedback and advice for the peace process.
For more than 30 years, The Asia Foundation has led successful programs in Mindanao and has identified peace and development there as among the highest priorities for the Philippines. Joining the ICG is a landmark for the Foundation's conflict work, enabling our conflict experts to play a direct role in the formal GRP-MILF peace process.
As the national May 2010 presidential elections draw near, transitioning the peace talks safely from the current to the next administration is a critical topic. The Asia Foundation held a public forum on February 24 entitled "Sustaining a Peace Process: Lessons from Peace Processes in Hard Times" in partnership with the Institute of Bangsamoro Studies. Featured speakers included Sagar Prasai, Zoran Milovic, and Ky Johnson, Asia Foundation Deputy Country Representatives from Nepal, Afghanistan, and the Philippines, respectively, and Tom Parks, the Foundation's Director for Conflict and Governance. The Forum provided perspective on carrying out conflict management programs in other countries and on a regional basis.