Nepal Faces Climate Change
By Diana Fernández, Nirjan Rai, and Geoffrey Swenson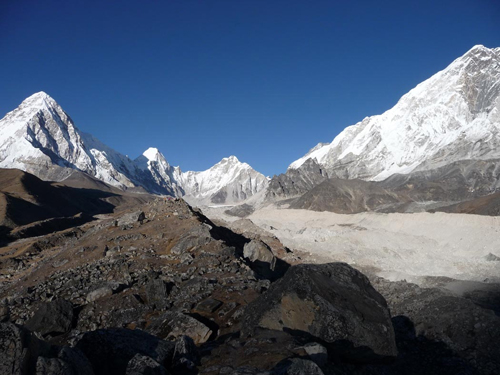 The Himalayan mountain range is reportedly warming at a rate three times faster than the rest of the planet, and the debate on potential impacts of this crisis is reverberating throughout Nepal and South Asia.
Glacial melting can cause potentially dangerous floods and negatively impact rivers that traditional, small-scale farmers have relied on for centuries for irrigation. Unfortunately, there has been limited effort from governments of the region, including Nepal, to tackle this issue in a coordinated, informed fashion. What little has been done, writes Assistant Editor Smriti Mallapaty in a recent issue of Himal Southasian magazine, "has gravitated toward adapting to the emerging emergencies, rather than a staged approach … to mitigate climate transformation." The Asia Foundation supported the special double issue of the magazine, which focused on climate change and its significant effects on South Asia.
The same issue of Himal Southasian highlighted the profound threat posed by climate change to the entire region of South Asia. Bangladesh is considered one of the places most vulnerable to climate change and thus faces potentially devastating consequences, including massive internal and external displacement.
Given the increasing demand for energy and the vulnerability of South Asian countries to natural resource exploitation, increased awareness about the need for action to address these issues across the region is essential.
The authors are program staff in The Asia Foundation's Nepal office. Photo by Mr. Helmut Blauth