ON THE GROUND IN ASIA: Leopold Sudaryono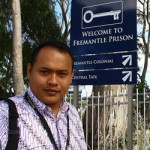 Leopold Sudaryono, Law Programs Coordinator, Indonesia
The Asia Foundation has played a key role in supporting significant reforms in the Indonesia justice sector. As The Asia Foundation's Law Programs Coordinator in Indonesia, Leo Sudaryono has been the point person for many of these programs over the last four years.
Of these programs, he is most proud of overseeing the Blueprint for Corrections Service Reform program. "The program will improve prison management and reduce inmates overstaying their detention periods which will eventually change inmate's lives for the better," Sudaryono says.
Prisons across the country suffer from severe overcrowding, overstaying, violence, corruption, and disease. To address these issues, the Foundation worked with the Directorate General of Corrections to develop the blueprint, which maps out reform objectives, identifies challenges, and prioritizes action steps.
"The Ministry of Law and Human Rights has adopted the document as legally binding policy to be used to shape the reform process within ten years," Sudaryono explains.
Sudaryono came to the Foundation from Oxfam GB Indonesia. A former lawyer, he has deep interest and insight on human rights, legal aid, and community development. "I was a young lawyer at the Jakarta Legal Aid Institute when I first heard about the good work of The Asia Foundation," he says. Now as part of the Foundation program staff, he says, "being amongst experts from various areas in the Foundation's Indonesia office is really a privilege."