Philippines' Power Players Unveil Recommendations for New Administration
April 14, 2010
As the May 10 national election approaches in the Philippines, efforts are underway in many quarters, all competing to shape the agenda of the new administration that will assume office on July 1. Early this week, in a large ballroom filled with the country's major foreign investors, government officials and media, the Joint Foreign Chambers (JFC), an umbrella organization of several Philippine-based foreign chambers of commerce, unveiled a new roadmap of recommendations for the new administration to spur investment and development in the Philippines.
The JFC's goal for the Philippines is ambitious: an 11 percent annual growth rate and $75 billion in foreign direct investment to create 10 million new jobs by 2020.
The strategy, referred to as "7 Big Winners," targets seven specific sectors for reform: agribusiness, business process outsourcing, creative industries, manufacturing and logistics, infrastructure, mining, and tourism (including medical tourism and retirement).
This is a tall task for a country that has consistently underperformed, trapped in a low-growth, low-investment equilibrium. Since 2000, the Philippine economy has averaged a 4.4 percent growth rate in real gross national income (GNP) and gross domestic product (GDP). These growth rates are modest, if not downright disappointing, when compared to regional growth rates, currently the highest in the world, with developing East Asia's real GDP growth expected to reach 8.7 percent in 2010. In the past 20 years, the Philippines has trailed the original ASEAN 6 in many leading economic indicators, including the one of most interest to foreign investors, foreign direct investment (FDI).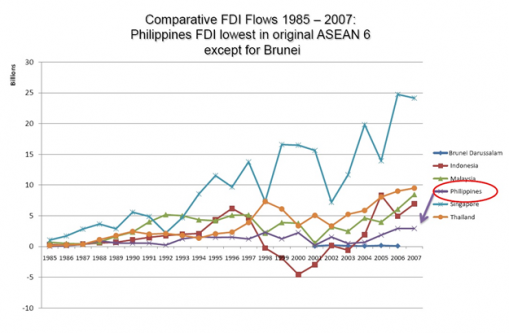 The JFC's goals for the new administration in the Philippines and the new decade are highly ambitious and likely represent the outer limit of possibility for positive economic outcomes. However, the JFC's assertion that considerable potential for dynamic growth in the Philippines still exists is correct, and the analysis of which sectors and reforms should be emphasized is accurate. Yet political challenges have traditionally been the primary obstacle to economic reform and will continue to remain so, regardless of the incoming administration's commitment to reform. While we have seen that a proactive administration in favor of market reforms, exemplified by the Ramos administration (1992-1998), can make improvements in the Philippine investment environment, implementing reform against entrenched interests is nonetheless a slow and incremental process. Other impediments to growth have been poor governance, corruption, poor quality infrastructure, and an inability to allow markets to efficiently allocate resources.
Despite these challenges, past reform successes prompt cautious optimism in the Philippines. The success of reform efforts for a policy allowing roll-on, roll-off (RO-RO) in maritime transport, as well as air liberalization at Clark Airport, are evidence that reform opportunities exist, even for administrations with limited commitment to economic reform. The RO-RO policy (see map below) has transformed the maritime sector in the Philippines, vastly improved inter-island economic linkages, increased competition, and driven down costs with minimal public investment. In some cases, the advent of RO-RO transport drove shipping costs down by more than 40 percent through increased competition and availability. It has been so successful that, despite strong initial resistance from the regulatory agency and powerful administration supporters, President Gloria Macapagal-Arroyo now regularly identifies it as one of the core pieces of her presidential legacy.
The increased savings rate in the Philippines could also prompt optimism. With Philippine banks now holding over $200 billion, there is a significant, and largely untapped, source of domestic funds. But, without a proper investment framework with institutions and incentives to channel the capital, mobilizing those funds to increase domestic investment critical for employment and poverty reduction will be difficult.
The foreign business community has laid out an ambitious goal for Philippine development. Though the prospects for radical transformation in Philippine politics and the economy are unlikely, the incoming administration, the Philippine private sector, and foreign investors have some cause for cautious optimism that meaningful improvements are possible in this decade.
Jaime Faustino manages The Asia Foundation's Economic Reform and Development Program in the Philippines and Jon Morales is an Assistant Program Officer there. They can be reached at [email protected] and [email protected], respectively.
About our blog, InAsia
InAsia
is a bi-weekly in-depth, in-country resource for readers who want to stay abreast of significant events and issues shaping Asia's development, hosted by
The Asia Foundation
. Drawing on the first-hand insight of renowned experts,
InAsia
delivers concentrated analysis on issues affecting each region of Asia, as well as Foundation-produced reports and polls.
InAsia
is posted and distributed every other Wednesday evening, Pacific Time. If you have any questions, please send an email to
[email protected]
.
Contact
For questions about
InAsia
, or for our cross-post and re-use policy, please send an email to
[email protected]
.
The Asia Foundation
465 California St., 9th Floor
San Francisco, CA 94104
Mailing Address:
PO Box 193223
San Francisco, CA 94119-3223
Change Starts Here Campaign Impact
Thank you for powering The Asia Foundation's mission to improve lives and expand opportunities.