Sri Lanka: Post-Civil War Police Reform and Public Security
April 28, 2010
Special to In Asia
A constable, his uniform freshly pressed, sits elbow to elbow with more than a dozen local residents in a loud, airless office in Pussellawa, a high-altitude hamlet nestled among the tea plantations of central Sri Lanka's diverse Kandy district.
"We're limited," he says. "The area we have to cover is big. We don't have enough vehicles, and there are not always proper roads."
This is an unusual admission here in this small, hardscrabble working-class town of mostly estate Tamils, or anywhere in Sri Lanka, where an inherited colonial legacy of rigid, formal police training has long emphasized weapons and checkpoints, not open, constructive conversation.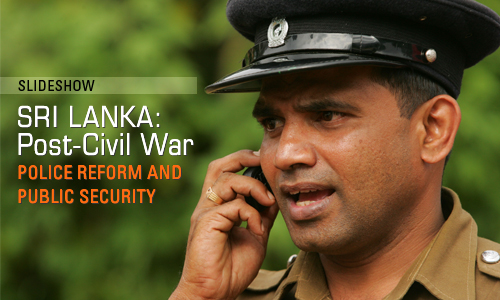 Language is also an issue. Local police units here, and throughout this island nation typically speak Sinhala, not Tamil. A recent survey conducted door to door here by a local organization and partner of The Asia Foundation found that, because of the language barrier, a significant percentage of Tamils feel nervous or afraid when making a complaint at a police station, or do not report crimes at all. "People [Tamils] still don't know what will happen to them if they make a complaint," says Santha Deepalal, of The Asia Foundation.  (A related program developed by The Asia Foundation and the Official Languages Department has trained police officers in Tamil.)
Long socially marginalized, estate Tamils in communities like Pussellawa were treated with suspicion during the 25-year bloody armed conflict between the government and the insurgent Liberation Tigers of Tamil Eelam that ended last year. The atmosphere is less tense but the nation is still confronted with the challenges of healing the social divisions created by the war – and realizing its potential for peace and prosperity.
Domestic violence, substance abuse, and theft are on the rise in sprawling multi-ethnic areas like Kandy. "There's a struggle to survive here," adds Mr. Deepalal. Break-ins, trespassing, and illegal home alcohol production are frequent, he says, and small, unreported, or uninvestigated crimes can escalate into larger situations. "This could create other problems."
Security, and the perception of security, remain unpredictable and dynamic on the island, but the structure, trainings, and tactics of the Sri Lankan Police Service have not changed. Nilan Fernando, The Asia Foundation's Sri Lanka country representative, cautions that in order to deal with new challenges, the police service must reform.
"If the police forces want to contribute to reconciliation, they must gain people's trust by being more disciplined and service-oriented."
In order to assist in better coordination of security, safety, and crime prevention, The Asia Foundation's Colombo office, with financial support from the British High Commission and the Conflict Prevention Pool of the UK government, has launched a pilot community-policing program. This first meeting in Pussellawa is one of 12 ongoing district-wide pilot forums, where invited residents and community leaders share their needs for security and protection, and local officers disclose the myriad of challenges they face performing their duties.
Inside the hot, humid Grama Niladari's office, Anuraddha Basanakye of Kandurata Community Development Foundation, a local partner of The Asia Foundation, and a veteran of grassroots community organizing, clarifies the role of the pilot forum in Pussellawa. "This is the place where people can come and discuss things in front of the police and other community members," he says.
A local resident suggests that if police want to have a better relationship with the community, they should attend more events. She ticks off a list of possibilities: funerals, village ceremonies, festivals.
"We don't always have time to participate; we have a busy schedule," the constable explains. "If a politician comes, we have to be present."
"Fear of police must be talked about here," vents a local resident.
Local retired government teacher Wimala Weerakon quietly whispers her concerns. "Drunkards," she says. An estimated half of all minor offences reported nationwide includes assaults, threats, and disputes, and incidents of domestic violence are increasingly linked to substance abuse. "Money is spent on it, then comes the fighting. We need the police to come and help."
Outside, a mother and her small daughter shuffle quietly along the narrow, winding street, lined with cracked concrete walls and modest homes and shops. Small bits of colored plastic and trash float in the open doorway.
"Our police system is old and not easy to change," Mr. Deepalal confides to a visitor. The Asia Foundation's goal for community policing is to help transform a tentative relationship into a mutually respectful, problem-solving partnership, allowing for open lines of constructive communication, he says. "But this won't happen overnight."
Later, after the meeting, Ms. Weerakon chats outside as volunteers set out quietly on foot home in the thick afternoon heat. "There's a need for this," she says. "There's interest here, and we'll build on it. This is a first step."
The Asia Foundation is committed to helping Sri Lanka restore its institutions of justice and a return to normalcy after a quarter century of civil war. We are on the forefront of police reform to reduce crime and have established more than 40 community task forces and trained approximately 520 police officers across the Asia-Pacific. By establishing public forums that bring together local residents, community leaders, and police officers to share their views and common concerns, we hope to contribute to trust, mutual respect, and safer communities. Read more about our work in Sri Lanka.
About our blog, InAsia
InAsia
is a bi-weekly in-depth, in-country resource for readers who want to stay abreast of significant events and issues shaping Asia's development, hosted by
The Asia Foundation
. Drawing on the first-hand insight of renowned experts,
InAsia
delivers concentrated analysis on issues affecting each region of Asia, as well as Foundation-produced reports and polls.
InAsia
is posted and distributed every other Wednesday evening, Pacific Time. If you have any questions, please send an email to
[email protected]
.
Contact
For questions about
InAsia
, or for our cross-post and re-use policy, please send an email to
[email protected]
.
The Asia Foundation
465 California St., 9th Floor
San Francisco, CA 94104
Mailing Address:
PO Box 193223
San Francisco, CA 94119-3223
Change Starts Here Campaign Impact
Thank you for powering The Asia Foundation's mission to improve lives and expand opportunities.