Chinese Citizens Participate in Process to Protect Ancient Wall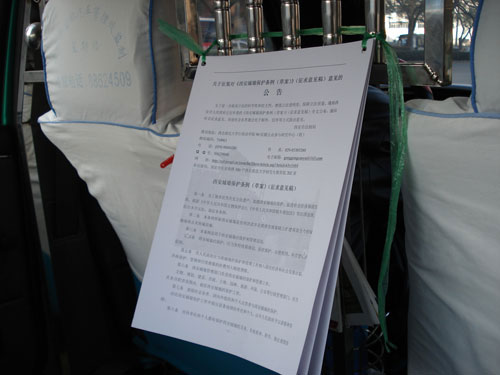 Kang Chunmin was pleased when a law passed in November 2009 to protect the historic city wall built during the Ming Dynasty in the ancient capital of Xi'an, his hometown. He was further pleased to see that his comments on the draft law had actually made it into the final legislation. Kang was onof more than 180 Xi'an residents who provided comments during the drafting phase of the law before it passed.
After seeing the final version of the law, Kang said, "The government has heard the views of ordinary citizens…Public participation in this drafting process not only helped educate the public on the value of protecting our city wall, but also helped build trust between us and the government."
Other residents wondering whether their comments were incorporated and why, (or why not) could get details on the official Xi'an Legislative Affairs Office's website, where government officials posted responses to their comments.
Examples of local governments working to institutionalize open decision-making practices can be seen across China, and reflect a broader trend in China's efforts to increase public participation in lawmaking.
The Asia Foundation and its partners have worked to support this trend over the last three years with activities including training for officials, community groups, and professional associations on the principles, practices, and benefits of public participation, and supporting the development of legislative guidelines on public participation to provide concrete guidance on methods and procedures. This is an important step to institutionalizing public participation in China and to ensuring that voices like Mr. Kang's can be heard.